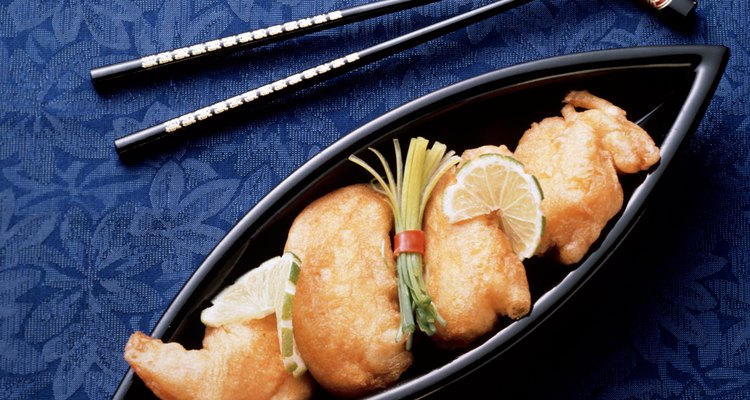 Eising/Photodisc/Getty Images
Frozen uncooked shrimp must be defrosted before frying to enable you to properly bread or batter them. Without this vital step, nothing would stick to them and they would lose out on the crunchy and crisp coating gives good fried shrimp its stellar reputation. Pre-breaded shrimp can be safely made at home and frozen, then deep-fried from frozen to save time cooking on a busy night.
Deep-Frying Shrimp
Shrimp must be thawed before breading or battering it, as the cold flesh of the thawed shrimp helps helps to adhere coating to its surface. When shrimp are frozen, both breading and battering simply fall away as soon as you apply it. Thaw frozen shrimp quickly in a bowl under lightly running cold water and bread or batter it directly before frying. You are able, however, to fry pre-breaded packaged shrimp or pre-breaded homemade frozen shrimp from their frozen state. To make your own pre-breaded shrimp, bread fresh shrimp in panko bread crumbs and freeze them on a baking sheet; once frozen, place the breaded shrimp in a freezer-safe bag. Fry breaded shrimp directly from the freezer; extend cooking time slightly to ensure the frozen shrimp develop a well-browned coating.
References
Writer Bio
Based in Portland, Ore., Maxine Wallace is a writer with more than 12 years of experience. With a bachelor's degree in journalism and experience working on marketing campaigns for large media agencies, she is well-versed in multiple industries including the Internet, cooking, gardening, health, fitness, travel and holistic living.
Photo Credits
Eising/Photodisc/Getty Images