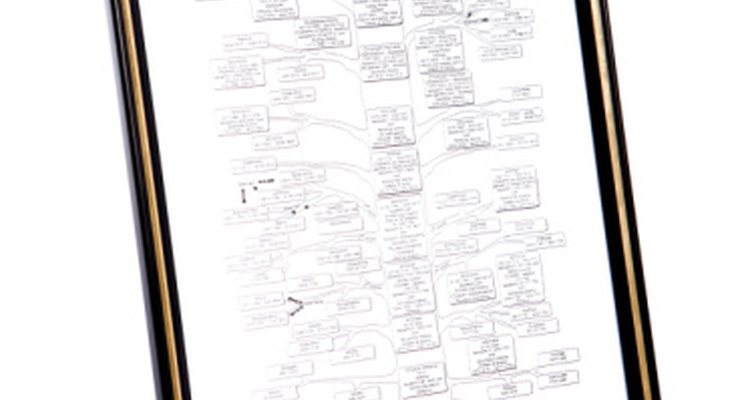 Thomas Northcut/Photodisc/Getty Images
Family history is intriguing. When you have missing information, it is a challenge to search and find that missing family branch. When you have a desire to find out who your great grandparent was, you will find that an array of records are available to the public to aid you in your search. As you undertake your search, be sure to keep meticulous notes and a record of sources for the information that you gather.
Speak with your parents and other family members to seek out any information that they have about your grandparents and great grandparents. Ask if there are any records such as a family Bible, copies of family wills, death certificates, letters or any documented information about your grandparents on both sides of the family. A family Bible may have a written family tree which will give you valuable information.
Search through available vital records from your parents and grandparents. Look at your mother's birth certificate for example, to find your grandparents' legal names. Make sure to record the proper spelling of the names.
Seek out your grandparents' marriage certificate and birth records. These vital records should be available in the states they were married or born in. You can request a copy of the death and birth certificates through the municipality or state vital statistics. A fee is charged for the service that the clerk provides for the certified copy. If your grandparents were born in another country, check the naturalization and alien registrations for country of origin which were made out in their names.
Read the information on your grandparents' birth certificates. The names of your great grandparents will be recorded on the official certificate. If your grandparents were born at home, there should still be a certificate of live birth available through the vital statistics bureau in the states where they were born. If one of your grandparents is still living, he or she may be able to tell you the family name of the other set of grandparents. For example, the paternal grandparent should know the maternal grandparents' family name.
Access information about your great grandparents through the state or country where your grandparent was born. Inquire at the municipality that is listed on your grandparents' birth certificates. There should be property tax records, census, death certificates, birth certificates and other information available if the great grandparents lived in the town or city for any period of time. County probate or military records may give you needed information too.
Seek out professional sources if you are having problems finding the name of your great grandparent. Find a reputable researcher or program to aid in your search.
References
Resources
Writer Bio
Suzie Faloon is a freelance writer who has written online content for various websites. As a professional crafter and floral designer, Faloon owned a florist business for nearly 25 years. She completed the Institute of Children's Literature course in 1988.
Photo Credits
Thomas Northcut/Photodisc/Getty Images