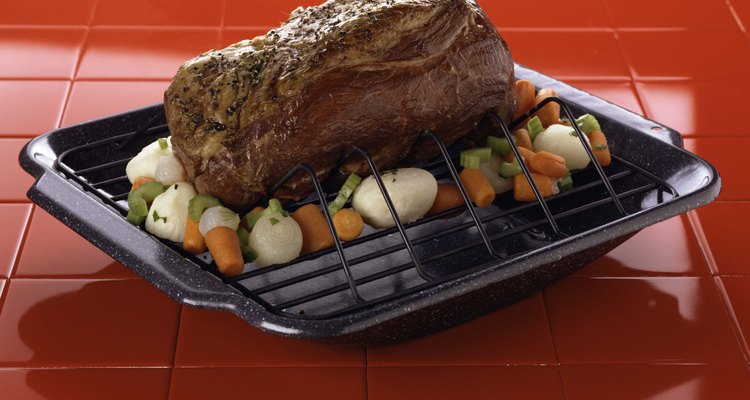 Jupiterimages/Stockbyte/Getty Images
Pulling beef for sandwiches, wraps or tacos goes a little more smoothly when the meat has been tenderized by a bold, tangy marinade. The main components of any great marinade are a base, an acid, salt and seasonings. This winning combination provides the meat with flavor while breaking down its tough flesh, making it simpler to shred after it's finished cooking. Whipping up a winning marinade for your pulled beef takes just a few minutes, but provides big results.
Step 1
Add marinade ingredients to a mixing bowl and whisk them together thoroughly. Choose complementary flavors for beef, such as red wine, teriyaki or soy sauce. Aim for one part acid, one part base, like stock or oil, and one or two parts salt and seasonings, such as fresh or dried herbs and spices. For barbecued pulled beef, choose seasonings like smoked paprika, chili powder, ginger, brown sugar and garlic, and acids like vinegar, tomato sauce or Worcestershire sauce. For a south-of-the-border kick, try a variety of peppers, cumin, onion powder and lime juice. Experiment with seasonings that please your palate, tasting along the way to perfect the flavor.
Step 2
Pour the marinade into an airtight container or a large freezer bag, and then add your roast. Ensure the entire surface of the roast is being touched by the marinade, then seal the container or bag and place it in the refrigerator.
Step 3
Remove the roast from the bag or container after it has sat in the fridge overnight. Cook it as instructed in your recipe. Allow the roast to reset for several minutes, then pull it apart to serve.
References
Tips
Add even more flavor to your meal by mixing the pulled beef with a tomato-based barbecue sauce before serving.
You can let the roast marinade in the refrigerator for up to 24 hours to enhance the flavors even more, if you have the time.
Instead of using a marinade, you might try brining your roast overnight if you are using a leaner cut such as a round or eye of round. The brine will help break down tissue and tenderize the meat before cooking.
Writer Bio
Joshua McCarron has been writing both online and offline since 1995. He has been employed as a copywriter since 2005 and in that position has written numerous blogs, online articles, websites, sales letters and news releases. McCarron graduated from York University in Toronto with a bachelor's degree in English.
Photo Credits
Jupiterimages/Stockbyte/Getty Images