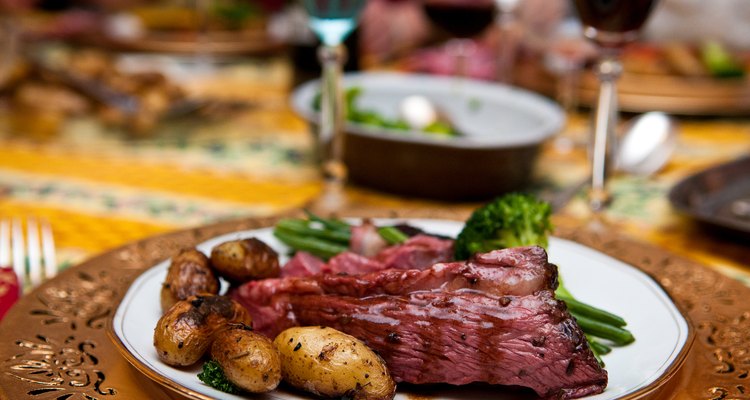 Cyril Hou/iStock/Getty Images
Usually cooked in the oven, roast beef is a dish normally served as a main meal, with the leftovers used to make sandwiches or hash. The tender cut of meat can also be cooked on a rotisserie grill, giving it a flavorful, succulent taste. The rotisserie helps to ensure the roast beef is evenly cooked. Cooking a roast beef on a rotisserie grill is relatively simple, and takes just over an hour. Read your rotisserie grill owner's manual for instructions on proper use of the attachments before cooking your roast beef.
Combine the sea salt, ground black pepper and paprika in a small, shallow dish. Rub the seasoning all over a 4- to 5-lb. roast.
Preheat the grill to 400 degrees Fahrenheit. Place a drip pan under the spit. Place the roast onto the rotisserie by threading the spit through the center of the meat, lengthwise. Attach it to the rotisserie according to your grill's manual.
Start the rotisserie motor and close the grill lid. Let the beef roast for 45 to 60 minutes.
Check the meat to ensure it is cooked by plunging a cooking thermometer into the center of the roast. The USDA recommends a minimum temperature of 145 degrees Fahrenheit.
Remove the spit with oven mitts. Remove the roast beef from the spit and wrap in tinfoil. Let it sit for three to four minutes before carving.
References
Writer Bio
Ireland Wolfe has been writing professionally since 2009, contributing to Toonari Post, Africana Online and Winzer Insurance. She obtained her Bachelor of Arts in psychology and Master of Arts in mental health counseling. She is also a licensed mental health counselor, registered nutritionist and yoga teacher.
Photo Credits
Cyril Hou/iStock/Getty Images