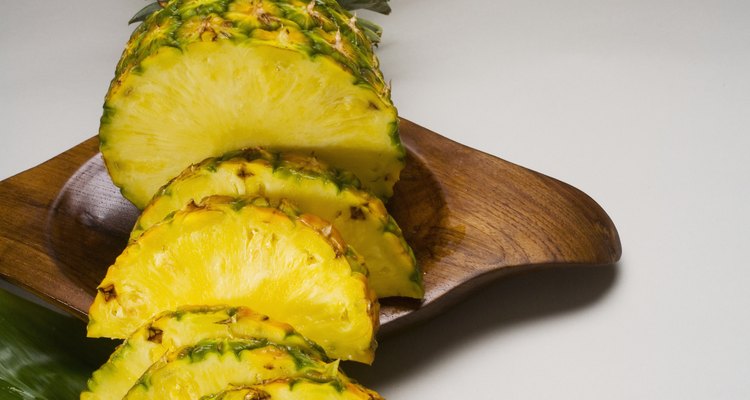 Design Pics/Tomas del Amo/Design Pics/Getty Images
El Pollo Loco is a fast food chain known for its citrus-marinated chicken. Established in Guasave, Mexico in 1975, El Pollo Loco has restaurants scattered across Arizona, California, Colorado, Connecticut, Georgia, Illinois, Nevada, Oregon, Texas and Utah. El Pollo Loco's flame-broiled chicken is tender, juicy and fresh-tasting. Their marinade is, of course, a proprietary recipe. However, you can play with the proportions in a guesstimation of what it contains until you find the mix that will make your friends loco for your pollo.
Pour pineapple juice into a bowl. Add small, equal amounts of vinegar and lime juice.
Whisk the liquids together and taste to adjust the proportions. Start with a drinking-glass amount of pineapple juice and add the lime juice and vinegar by the spoonful.
Add chili powder, garlic and oregano to taste. Whisk them into the liquids and finish the seasoning with salt and pepper.
Place chicken pieces into a baking dish and pour the marinade over them. Cover the baking dish with plastic wrap and leave it in the refrigerator overnight.
Turn the marinating chicken a few times if you walk by the refrigerator so that the chicken stays evenly coated.
Spray your grill or broiler pan's rack with nonstick cooking spray.
Preheat your broiler or turn your grill on to medium-high.
Place the chicken pieces on the grill or under the broiler.
Cook the chicken for 25 minutes and then turn it with tongs. Cook it for another 15 minutes or until an instant-read thermometer inserted into the thickest part of the meat reads 165 degrees Fahrenheit.
References
Resources
Writer Bio
Brynne Chandler raised three children alone while travelling, remodeling old homes, taking classes at the Unioversity of California Northridge and enjoying a successful career writing TV Animation. Her passions include cooking, tinkering, decorating and muscle cars. Brynne has been writing fun and informative non-fiction articles for almost a decade. She is hard at work on her first cookbook, which combines healthy eating with science-based natural remedies.
Photo Credits
Design Pics/Tomas del Amo/Design Pics/Getty Images