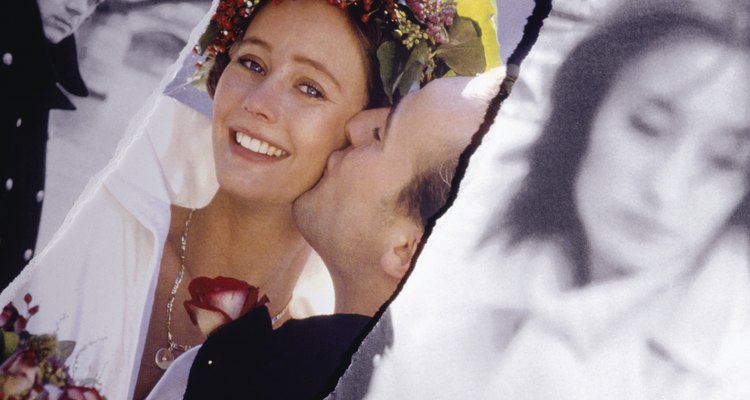 David De Lossy/Photodisc/Getty Images
Men find it more difficult to forgive sexual infidelity and are more likely to leave a relationship because of it, according to a research study published in the 2002 edition of the journal "Cognition and Emotion." According to the study, men are more likely to struggle with issues related to forgiving sexual infidelity while women have more problems forgiving emotional infidelity.
Fantasy Vs. Reality
In an article on WebMD.com, Mark Epstein, M.D., a psychiatrist and author of "Open to Desire: Embracing a Lust for Life," makes an interesting observation that men are attracted to porn portraying cheating wives. However, they have a very negative reaction when the cheating wife is their own. Many of Epstein's male clients have problems getting the image of their wife with another man out of their head. When a man cheats, he might tell his wife that it was "just sex" and didn't mean anything. This is because he can compartmentalize sex and can tune out any emotional connection. Although, a man often won't accept that same response if his wife has had an affair.
Take Responsibility
If you cheated on your husband, take responsibility for what you did, and understand that he is now likely struggling with an image of you in bed with another man. It could help to explain why you cheated, as long as you don't lay the blame on him for your actions. Louanne Cole Weston, Ph.D., a licensed sex therapist and family and marriage counselor, suggests getting it all out on the table. Be honest about what you were feeling when you cheated and how you feel now, as she states in an article on WebMD.com. Say something like, "I felt so alone and disconnected," "What I did was stupid and wrong," or "I wanted more romance than we have now and the affair was a way to rekindle that for me." This makes the infidelity about you and your needs and can open the door to working on the problems you identify.
The Aftermath
Because men seem to believe the affair was all about sex, explain that you needed the emotional connection, if that's the truth, according to psychologist Greg Swenson, Ph.D. If he wants to compare your affair partner's technique to his, bolster his ego and explain that sex was a conduit for relationship and sex is better with him because you love him. Talk about rebuilding that connection with him and what you need. Ask him what he needs from you and whether he can forgive you. Realize that forgiveness takes a long time, and sometimes never happens. It could be helpful to talk about research from Dr. Fran Cohen Praver, a clinical psychologist and relationship analyst. Praver writes that when your partner replays the affair details, it punishes him by hanging on to it, so turning to you for real connection and intimacy instead of imagining your affair details could help heal the wounds from the affair. She suggests that you lock eyes, express empathy and express your love, remorse and desire to start over, as she notes in her "Huffington Post" column.
Support
Men have difficulty finding other men who will support their decision to stay with a cheating wife, according to sexuality counselor Ian Kerner in a CNN interview. The prevailing social idea is that men cheat and women should accept that and women don't and if she does you should leave, according to Kerner. He could benefit from spending time talking to other men who have rebuilt their marriage after the wife's affair and from a marriage counselor who can help you sort out the problems in your relationship. He agrees that sharing your perspective on the marriage, listening to one another and expressing empathy can help you weather the storm to a better relationship.
References
Writer Bio
Rev. Kathryn Rateliff Barr has taught birth, parenting, vaccinations and alternative medicine classes since 1994. She is a pastoral family counselor and has parented birth, step, adopted and foster children. She holds bachelor's degrees in English and history from Centenary College of Louisiana. Studies include midwifery, naturopathy and other alternative therapies.
Photo Credits
David De Lossy/Photodisc/Getty Images