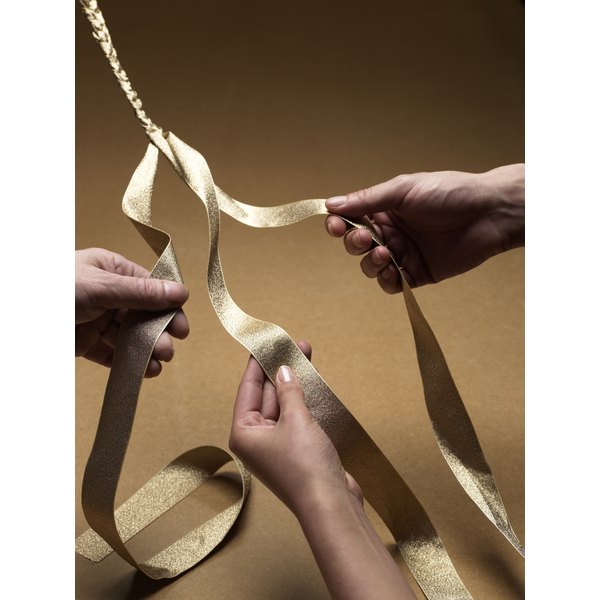 Items you will need
gold, silver, or brass ring (2 inches or more in diameter)
three cords 30 inches in length (white, gold, and purple are traditional colors)
hot glue gun or strong fabric glue
small rubber band
large charms or beads (optional)
Inspired by the beautiful passage from Ecclesiastes, the wedding ceremony cord, also called a handfasting cord, is a lovely way to incorporate God into your wedding ceremony. The three cords represent God, the bride, and the groom. The bride braids the cord to show the equal parts each has in the marriage and how together they are stronger than they are apart. Making your own wedding ceremony cord is less expensive than ordering one and provides the bride an opportunity to add her own personal touches. Traditional colors for the cords are white (bride), purple (groom) and gold (God), but the bride may choose any three colors.
Creating the Cord
Step 1
Choose your cords and be sure to secure the ends with rubber bands so they do not unravel. Cords found in the drapery section of the fabric store work well, but some brides choose to use ribbons.
Step 2
Attach the white strand of cord to the ring. Slip the top inch of the cord through the ring and use the glue to attach it to the second inch of itself, creating a loop through which the ring slides easily. Repeat the process with the gold and then the purple cords.
Step 3
After you have all three cords attached to the ring, place a heavy book on the cords until the glue sets.
Step 4
During the ceremony, have the officiant bless the cord. Choose a reading or music to accompany the braiding of the cord.
Step 5
As the groom holds the ring, the bride takes the ends and begins to braid.
Step 6
Take the purple cord in your right hand. Cross the right purple cord over the center gold cord and pull them taut.
Step 7
Take the white cord in your left hand. Cross the white cord over the center purple cord and pull them taut.
Step 8
Take the gold cord in your right hand. Cross the gold cord over the center white cord and pull them taut.
Step 9
Continue until you have around three inches of cord remaining and secure it with the small rubber band.
Step 10
Display the cord at your reception and then in your home to remind you of the combining of your lives and God's presence in your marriage.
Tips
Experiment with different types of glue and cord before committing to purchasing final supplies. Explain the cord braiding and significance in the wedding program. You may choose to add beads or other charms to your completed braid.
Warnings
Check for colorfastness with a small section of cord and glue.
Photo Credits
Phil Ashley/Lifesize/Getty Images