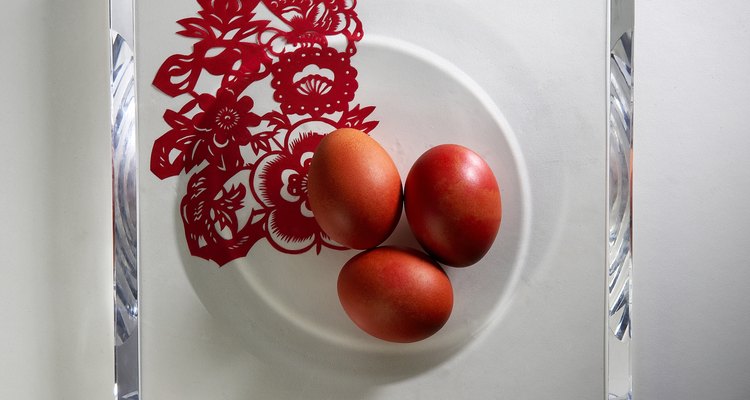 Viewstock/Photodisc/Getty Images
Baby showers in America usually are hosted before the arrival of the new-born. In Chinese culture, baby showers are traditionally hosted a month after the baby's born. Whether you are following the Chinese tradition or not, you can make this event memorable and fun. Having a new member in the family is an exciting moment. Enjoy the process planning and hosting the baby shower.
Red Egg and Ginger Party
Distributing red eggs and ginger to family and friends is a custom in Chinese culture when a new born arrives. Boil eggs and dye red with food coloring. If you know how, prepare some ginger or soup for your guests. Hot tea is also appropriate. Invite your family and friends to visit your home to see the new born and enjoy the treats.
Baby Shower Dinner
Another customary Chinese baby shower event is hosting a formal dinner gathering at an authentic Chinese restaurant. You, as the new parents, will host this event when their new-born turns one-month old. Contact a local authentic Chinese restaurant in advance to make reservations. Chinese restaurants generally have set-menus for Chinese baby shower gatherings. If your area does not have any authentic Chinese restaurant, you may cook and invite your guests to your house for this feast.
American Chinese Style Decoration
If you decide to host an American baby shower prior to the arrival of your Chinese baby, you can also choose an American Chinese theme baby shower party. Use Chinese-to-go boxes, fortune cookies, Chinese calligraphy, bamboos, lanterns, dragons, and Asian crafts as decorations and/or favors. Red is the most common color because it symbolizes happiness and good luck. You can purchase these items from Asian grocery stores or market.
Chinese Baby Shower Catering
Food is an important part in any Chinese celebration events. Serve Chinese or Asian food at your baby shower event. Red eggs, long noodles, spring rolls, birthday bread or cake and soup are common food items in Chinese baby shower. You can also serve other Asian cuisine, such as sushi and pad thai.
Writer Bio
Alice Lou holds a B.S. in mathematics from Columbia College and an M.S. in operations research from Columbia University. She is also a chartered financial analyst level II candidate. Lou currently teaches undergraduate mathematics at a four-year college.
Photo Credits
Viewstock/Photodisc/Getty Images