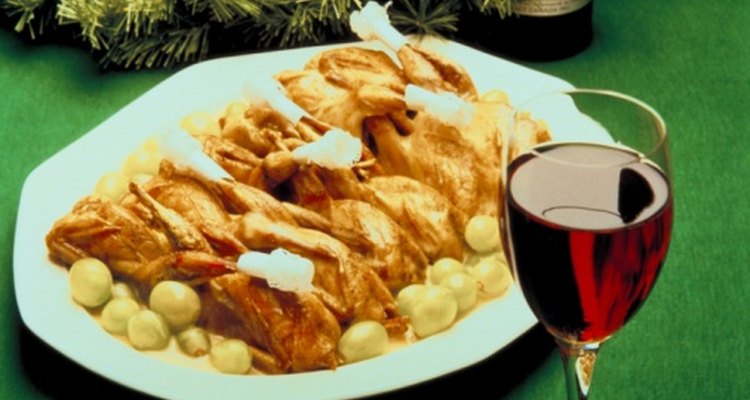 Jupiterimages/Photos.com/Getty Images
Quail is a small species of bird that belongs to the pheasant family. It has been used traditionally in French, Japanese, Portuguese, English and Indian cooking. Like other meats, quail can be fried in a variety of methods. The way you fry will actually affect how healthy the finished product will be. Pan frying and oven frying are healthier than deep frying. The preparation of the quail will be the same for all three methods of frying.
Preparation
Mix 1 1/2 cups of buttermilk with salt and pepper in a bowl large enough to hold all of the quail. Allow the quail to marinate four hours.
Place the flour in a 1-gallon zip-lock bag.
Add the remaining 1 1/2 cups of buttermilk to a small bowl.
Remove quail one by one from the marinade and drop into the bag of flour.
Shake the bag well and then drop quail into the buttermilk bowl.
Place each quail in the flour once again and shake well. Set aside the quail on a baking tray until ready to fry.
Pan Fry
Place about 3 tablespoons of oil into the pan and allow to heat until bubbling begins on the surface.
Add quail to the pan two or threes at a time. Brown on both sides, this should be about four to five minutes per side.
Use a meat thermometer to check the internal temperature of the meat. Meat should be about 165 F to indicate that it is thoroughly cooked. Fry each side evenly until meat reaches this temperature.
Place on a plate and allow to cool for five minutes before serving.
Oven Fry
Cut quail down the sides to flatten.
Bake for 30 to 40 minutes. Meat should be tender and easy to cut with a fork. Test the internal temperature of each quail with a meat thermometer. The inside temperature should be 165 F. Leave in the oven for another 10 minutes if it is not yet at 165 degrees.
Remove pan from oven and allow quail to cool for 10 minutes before serving.
Deep Fry
Pour enough peanut oil to fill the pot about 4 inches.
Heat oil to 325 F. Test this temperature with your cooking thermometer.
Deep fry each quail, two or three at a time, until they are golden brown and floating at the surface, this should take five to ten minutes per quail.
Immediately check the temperature of each hen upon removal from oil with a meat thermometer. Internal temperature should be at 165 F. Fry for another five to 10 minutes until correct temperature is reached if needed.
Lay finished quail on paper towels to drain. Serve once they have cooled in five to 10 minutes.
References
Writer Bio
Nicolette Calhoun has been writing professionally since 2010. Previous work includes copywriting for a marketing consultant and annotation writing for documentary editing projects. Her areas of expertise include marketing, editing, antiques, crafts, hobbies and research. She has a B.A. in English with a writing intensive concentration from the University of South Carolina.
Photo Credits
Jupiterimages/Photos.com/Getty Images