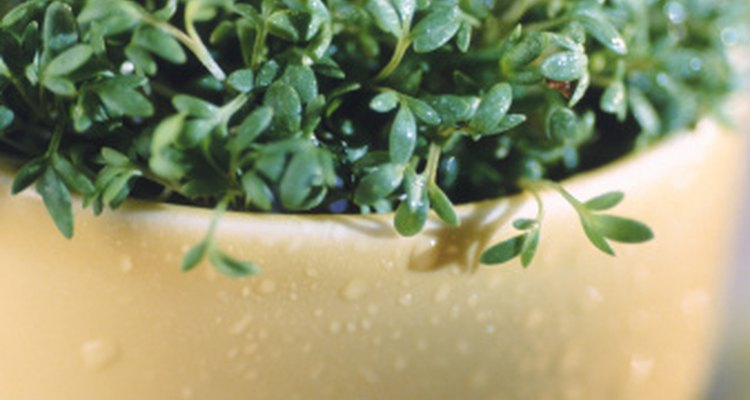 John Foxx/Stockbyte/Getty Images
Thyme is one of the finest culinary herbs, at home in almost any dish. It is widely used in European cooking, especially French, but is sadly under appreciated here at home. The flavor is fresh and peppery, with floral, pine and citrus notes in varying degrees. Thyme is hardy in gardens almost everywhere across the country, and fresh thyme always is available in supermarkets. While thyme dries well, the fresh flavor is better preserved by freezing.
Rinse the sprigs of thyme well in clean, cold water. Shake off any excess moisture, and pat them dry between sheets of paper towel.
Lay the thyme flat on three layers of clean, dry paper towel, about 3/4 the width of your freezer bag. Cover with another three layers of paper towel. The towels will absorb any remaining moisture, protecting the thyme.
Slide the thyme and paper towels carefully into the freezer bag. Seal the "zipper" at least 3/4 of the way, then press flat to expel as much air as possible. Close the seal.
Freeze the thyme flat on a sheet pan or plate, then store in a rigid container to prevent crushing. To use, strip the leaves from the stems by sliding each stem between a thumb and forefinger. Substitute frozen for fresh thyme in any recipe.
Freeze herbs in water or light olive oil, as an alternative technique. Place 1 tbsp. of chopped herbs in each cup of an ice cube tray, and cover with oil or water. This provides an extra degree of protection, but is not as necessary with thyme as it is with other herbs.
References
"On Food and Cooking: The Science and Lore of the Kitchen, Revised Second Edition"; Harold S. McGee, 2004
Writer Bio
Fred Decker is a trained chef and prolific freelance writer. In previous careers, he sold insurance and mutual funds, and was a longtime retailer. He was educated at Memorial University of Newfoundland and the Northern Alberta Institute of Technology. His articles have appeared on numerous home and garden sites including GoneOutdoors, TheNest and eHow.
Photo Credits
John Foxx/Stockbyte/Getty Images