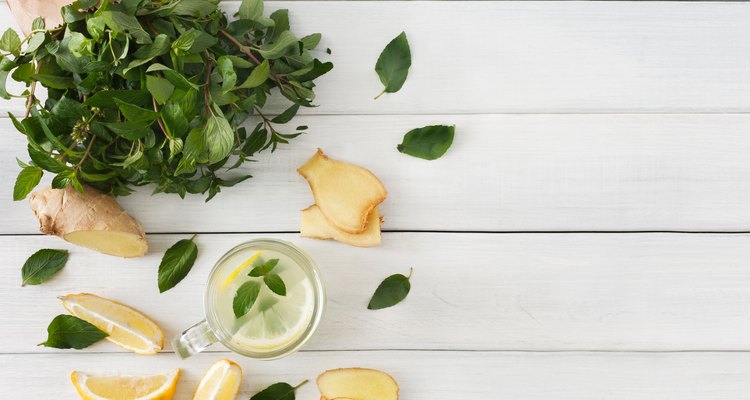 Milkos/iStock/GettyImages
A sprig of mint, with its cool and refreshing flavor, adds a decorative look as well as a complementary flavor to beverages such as lemonade and mint juleps. The freshest mint is essential if you plan to garnish drinks with mint sprigs at your next home gathering or party. Whether you cut mint stems from your own plant or purchase pre-cut mint from the grocery store, proper storage keeps the leaves fresh and crisp for as long as possible.
Fresh-Cut Mint
Thoroughly rinse and pat dry fresh mint leaves to remove any soil residue.
Fill a jar or tall plastic container with roughly 1 inch of of water, just enough to cover the cut stem ends of the mint leaves.
Place the mint leaves in the container. Let most of the mint leaves stick out of the container, like flowers in vase.
Cover the mint leaves and container loosely with a plastic bag, and place it in the refrigerator. Keep the mint no longer than seven to 10 days. Alternatively, keep the mint in a jar of water on the kitchen counter, although the leaves stay crisper longer in the fridge. Change the water in the container when it starts to get cloudy.
Pre-Cut Mint
Rinse the mint leaves and pat dry with paper towels.
Wrap the mint carefully between two dry paper towels.
Place the wrapped mint leaves in a plastic bag and tie it shut.
Store the bag of mint in the vegetable crisper in your fridge. The mint should remain fresh for up to a week.
References
Tips
Although you can freeze mint in water in ice cube trays, once thawed, they will look wilted and aren't attractive enough for garnishing drinks.
Use chopped-up frozen and thawed mint leaves for soups, blended drinks and meat dishes.
If you store the mint in a container, place the container inside a baking pan before placing it in the refrigerator to help contain any spillage in the refrigerator if you accidentally tip over the container.
To make a sprig of mint for a garnish, cut a mint stem with three or more leaves on it and top the drink right before serving it.
Writer Bio
Based in Los Angeles, Zora Hughes has been writing travel, parenting, cooking and relationship articles since 2010. Her work includes writing city profiles for Groupon. She also writes screenplays and won the S. Randolph Playwriting Award in 2004. She holds a Bachelor of Arts in television writing/producing and a Master of Arts Management in entertainment media management, both from Columbia College.