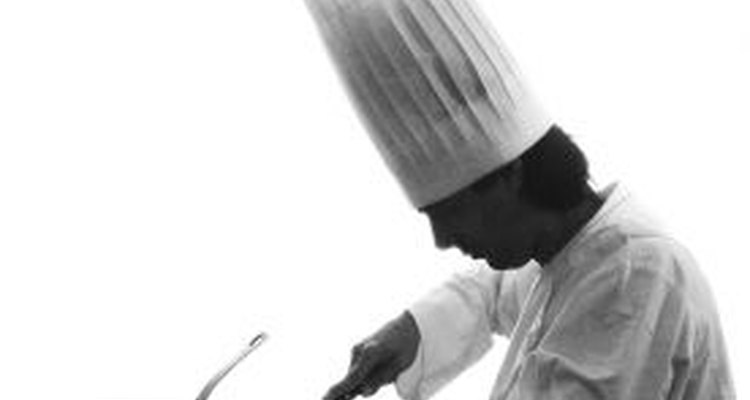 Photo, curtesy of Stock.xchng
When you see a picture of a chef in his uniform, it's unlikely that you think of safety in the kitchen. However, a chef wears his outfit specifically for that purpose; to protect him and the food he is preparing. You can create a safe atmosphere in your own kitchen by adapting some dressing tips.
Tie an apron around your neck. A chef's jacket is double-breasted to prevent hot splashes and spills from burning his chest. Choose one with ample fabric in the front to protect a large area.
Choose a shirt with long sleeves and don't roll the sleeves up. This is another safety feature taken from the traditional chef's uniform. Long sleeves should be loose enough to allow unrestricted movement but snug enough to keep from hanging and catching in kitchen appliances to protect your arms from hot splashes.
Pull on lightweight pants without cuffs to protect your legs. Kitchens often get hot but wearing shorts is a mistake. Choose a pair that fits well so a belt is unnecessary.
Tuck lightweight kitchen towels into the belt loops on your side. Chef's use side towels, kept within quick reach, when removing hot pans from the stove or oven. Although not intended for hand wiping, they are available for that purpose in an emergency. Just replace them with clean side towels immediately.
Slip into leather shoes with non-skid soles when working in the kitchen. Athletic shoes, although comfortable, don't provide the protection necessary should a knife fall upon your foot. A stiff upper covering provides a safety feature for your toes.
Tie a bandana around your neck to absorb excess sweat and to wipe your face with, if needed. Avoid wiping sweat on your side towels.
Top off your kitchen safety uniform with a hat. You needn't wear a tall chef's hat but a cap or a hair net will protect the food you are preparing from the contamination of stray hairs. If you sweat a lot, consider a hat that fits on your forehead to absorb excess moisture.
Writer Bio
Glenda Taylor is a contractor and a full-time writer specializing in construction writing. She also enjoys writing business and finance, food and drink and pet-related articles. Her education includes marketing and a bachelor's degree in journalism from the University of Kansas.
Photo Credits
Photo, curtesy of Stock.xchng