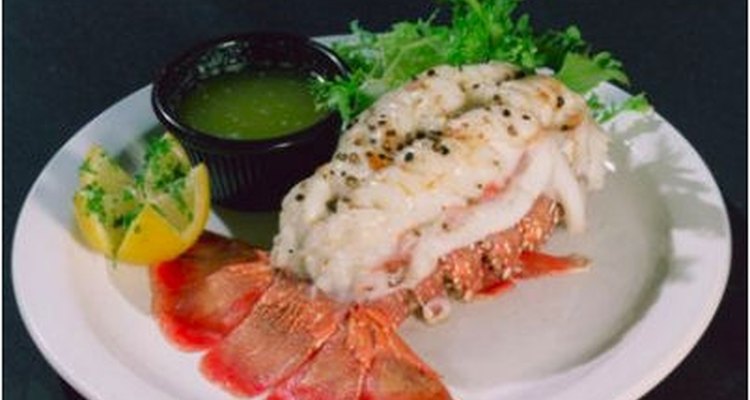 http://www.rococo-restaurant.com
Lobster dinners are romantic, delicious, savory and usually associated with an opulent setting. Whether you're preparing lobster for a special occasion or a romantic dinner at home, dressing this succulent seafood dish adds to its presentation. Take a look at these tips for easy and quick ways on how to dress a lobster.
Split the lobster in half lengthways. Then, remove and crack the claws.
Melt a half a stick of butter or margarine, then add lemon juice to the melted butter (to taste). Serve the lemon butter mixture in a small dish with the lobster.
Be careful as you remove the meat. Stay away from the "fingers" alongside the walls of the body of the lobster. Also, throw away the intestines (inside of the tail) and the stomach sac (right behind the mouth; gritty).
Once the meat is removed, place it in the center of the plate. Serve it with the lemon-butter mixture and other garnishes or seasonings of your choice. Decorate the place with large chunks of leftover lobster shell, lettuce, lemon wedges or parsley for a finished, decorative look.
The completed dressed lobster look should appear as follows: the lobster meat or lobster tail should be placed in the center of the plate and should be sprinkled with the garnish of your choice on top. Tasty garnishes include lemon, butter and old bay.Place the lobster on a large decorative plate to add to the presentation. Once you have placed the lobster in the center of the plate, place the cracked shells around the edge of the plate to add color to the presentation of the dish. Then, Next to the lobster, place a small dish of melted butter and a small dish of Old Bay seasoning (or sauce/seasoning of your choice).Once you have placed the butter and seasoning dishes, chop up a small portion of purple cabbage and parsley. Then, place the cabbage and parsley around the lobster and small dishes. It should be in the inside of the cracked lobster shells.
Enjoy your colorful, dressed lobster dish.
Photo Credits
http://www.rococo-restaurant.com