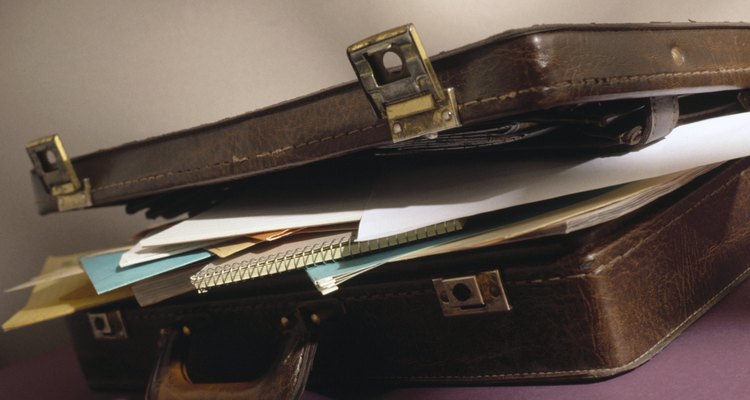 Hemera Technologies/Photos.com/Getty Images
You've spent days putting together a great outfit for your big meeting. You've even decided to bring your Tumi briefcase. Now you need to make sure that your briefcase looks as good as you do. The briefcase is an accessory that can make or break your outfit. Keeping your briefcase clean will keep it looking good and extend its life. How you clean your briefcase is going to depend on what it's made of. Most Tumi briefcases are made of either leather, nylon or a combination of the two. Caring for nylon and leather is a simple process. Just a little effort will make sure your briefcase looks good and last a lifetime.
Take all of your things out of your briefcase. Be sure to open and empty all of pockets and compartments. Wipe all dirt and debris out of the inside of the bag with a clean cloth.
Fill a bucket with warm water. If you don't have a bucket, you can run warm water into the sink or bathtub. Mix a few drops of mild liquid dish soap into the water. Swish the water around until suds begin to form.
Dip a towel into the water and wring it as dry as possible. Using too much water on leather or nylon can cause the fabric to stain or not dry properly.
Rub the damp towel over the outside of the briefcase. Apply pressure only in places where you see spots or stains. If your briefcase has nylon on it, you can use a nylon brush or a clean toothbrush to get rid of spots and stains.
Dry your briefcase by rubbing it with a clean dry towel. After the briefcase is dry, you can treat it with leather protector or waterproofing spray.
References
Writer Bio
Based in Los Angeles, Calif., Sameerah Blue has been writing professionally since 2000. She has been a contributing writer for "Step Magazine," "Rapport Magazine" and "Highland Park News." She is also a writer and editor for the blog Ectomag.com
Photo Credits
Hemera Technologies/Photos.com/Getty Images