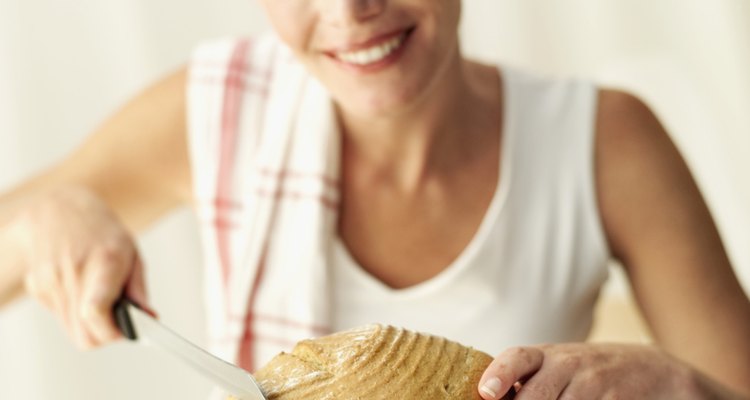 Stockbyte/Stockbyte/Getty Images
Baking bread in a Dutch oven has been an accepted practice since the days of the pioneers. The New York Times sparked a renewed interest in the technique when they published a recipe for Dutch oven-baked bread by Jim Lahey, owner of Sullivan Street Bakery, in 2006. Dutch ovens provide a consistent heat both from the top and bottom when baking in the oven. But they are adaptable and can be used on a grill, or over coals or a fire with a bit of practice.
Regular Crust
Prepare a batch of your favorite yeasted bread dough. Dough that consists of three to four cups of flour will work the best for this technique.
Preheat the oven to 450°F. Place the dough inside of an ungreased Dutch oven. Choose a Dutch oven that has a four- to six-quart capacity for best results. Brush the bread with egg wash, olive oil, Kosher salt or herbs if desired. Cover the Dutch oven.
Place the filled Dutch oven on the center rack of the oven. Bake for 30 minutes. Remove the lid and bake for an additional 15 to 30 minutes, or until the bread is golden brown.
Thicker Crust
Prepare enough yeasted bread dough for a single loaf. Lay the dough on top of a non-terrycloth towel during the final rise. Cover the dough with an additional non-terrycloth towel.
Put a four to six quart Dutch oven in the oven and preheat to 450°F. When the oven is preheated and the dough has completed its final rise, remove the top towel from the dough. Open the oven and remove the lid from the Dutch oven. Use the towel as a sling to carry the dough to the Dutch oven. Flip the dough over so that it lands in the Dutch oven upside down.
Cover the Dutch oven and cook for 30 minutes. Remove the cover and cook for an additional 15 to 30 minutes, or until the internal temperature of the bread reaches 200°F.
References
Writer Bio
After attending Fairfield University, Hannah Wickford spent more than 15 years in market research and marketing in the consumer packaged goods industry. In 2003 she decided to shift careers and now maintains three successful food-related blogs and writes online articles, website copy and newsletters for multiple clients.
Photo Credits
Stockbyte/Stockbyte/Getty Images