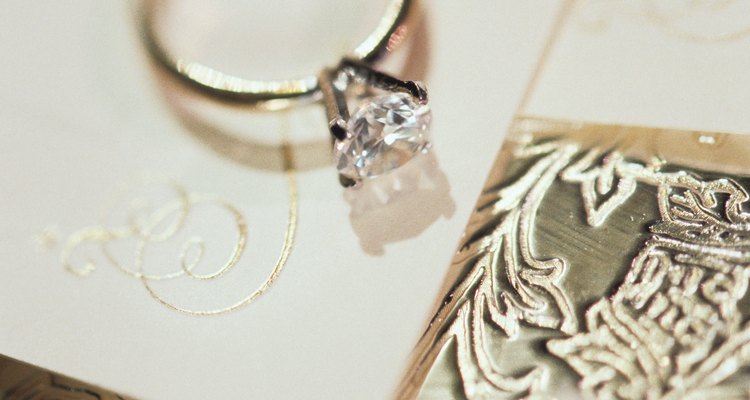 Comstock/Stockbyte/Getty Images
Engagement periods are times of romance, love and excitement, so when an engagement is broken, the sense of loss and disappointment spreads beyond the couple and affects friends and family. If you've been friends with the would-be bride and groom and want to maintain a good relationship with both, it is more difficult to navigate the emotional minefield. Be considerate, sensitive and nonjudgmental to manage the situation with finesse.
Step 1
Be a good listener and nonjudgmental, regardless of who broke off the engagement or why. Your girlfriend is experiencing a sense of loss and might lash out at her former fiance. Don't contribute additional ammunition against him. Don't attempt to make your friend feel better by reminding her about his negative qualities. Control yourself and stay silent. Keep in mind that whatever you say may get back to him.
Step 2
Focus on the positives of the situation. Remind them both that a broken engagement is preferable to an unhappy relationship and far better than divorce.
Step 3
Inform them that broken engagements have become commonplace. Time magazine reports as many as 20 percent of all survey respondents claimed a broken engagement. Family and friends will get over it and move on, despite the embarrassment and humiliation.
Step 4
Understand that weddings called off closer to the set date are likely to be more upsetting to the bride and groom. If invitations were already sent, the embarrassment is greater. Offering concrete help -- such as addressing envelopes and licking stamps for cancellation notices -- demonstrates support without blame.
Step 5
Your role is to stay impartial. If, for example, your girlfriend decides not to return the ring, don't try to talk her into returning it. Consider asking questions about her reasons for the decision to help her process her motives, but don't persuade her to return it. She might feel you are siding with her ex-fiance.
Step 6
Offer concrete suggestions to help your friend manage any financial losses due to the broken engagement rather than talking her ex into contributing money towards nonrefundable deposits. Forbes magazine suggests reselling bookings to other engaged couples at a discounted rate to recoup the expenses.
Step 7
Show your girlfriend support in ways that don't impact negatively on her ex. For example, giving her a gift certificate for a spa demonstrates that you want to help ease her pain without casting blame on her ex.
Step 8
Be realistic about future difficulties if you remain friends with both. Michael Vincent Miller, author of "Intimate Terrorism: The Crisis of Love in an Age of Disillusion," points out that most couples do not remain friends after a broken engagement. Your friendship with them might be compromised if you plan to host events and invite both.
References
Resources
Tips
Be prepared to give up your friendship with the groom if your girlfriend demands it. If, for example, he cheated on her, she might feel betrayed by your ongoing friendship with him.
Writer Bio
Freddie Silver started writing newsletters for the Toronto District School Board in 1997. Her areas of expertise include staff management and professional development. She holds a master's degree in psychology from the University of Toronto and is currently pursuing her PhD at the Ontario Institute for Studies in Education, focusing on emotions and professional relationships.
Photo Credits
Comstock/Stockbyte/Getty Images