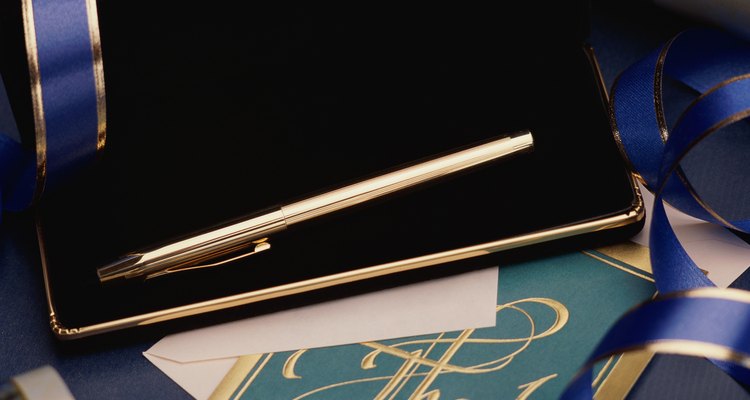 Stockbyte/Stockbyte/Getty Images
Retirement is a life milestone that rarely goes uncelebrated. Your friends, family and colleagues will likely throw you a party, and you will probably receive some gifts as well. Acknowledge this show of affection and appreciation by promptly sending thank you notes after the party, or any time you receive a retirement gift.
Whom to Thank
Thank anyone who sent you a gift. Keep a list as gifts arrive, or ask a friend to keep a list at your retirement party. Then use the list to send out the thank you cards. In addition, thank anyone who was instrumental in organizing your party, if you had one, including people who donated food or provided entertainment.
What to Write
Thank you notes don't have to be long, but should feel sincere, according to Twisted Limb Paperworks. One way to do this is to begin by thanking those who sent gifts that meant the most to you, or those who put the most effort into making your retirement a truly meaningful and memorable occasion. That way, you won't be writing the most important thank you notes at the end when your energy may be lagging. A brief sentence stating how much you appreciate the specific gift is necessary. Then, follow up by writing something kind about the person who sent it. For example, you might write: "Dear John, thank you so much for the tickets to Hawaii. I am so excited to be able to rest and enjoy a much-needed vacation. You have always been a generous and giving brother to me." Sign the note in an appropriate manner, such as "With Love" or "Sincerely."
When to Send
Send the notes within two weeks of the retirement party or the date you received the gift. If you had a very large party with a lot of guests, enlist the help of a friend. Don't have the friend write the notes, but he or she can address the cards, add stamps and check the names off of the list when you have finished writing each note.
General Tips
Etiquette states that you should use high-quality note cards and a nice pen. Always hand-write your notes and never send a thank you via email or typed up on printing paper. These things imply a lack of sincerity and gratefulness. Set aside an entire afternoon to tackle them all at once, or commit to doing a few each day after lunch.
References
Photo Credits
Stockbyte/Stockbyte/Getty Images