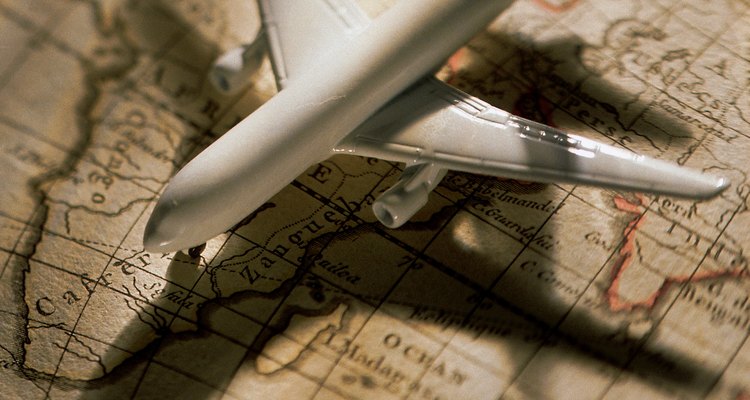 Comstock/Comstock/Getty Images
Long-distance relationships that cross international borders bring with them a specific set of challenges. But given the advancements in technology and the affordability of travel, there has never been an easier time to date someone from another country. For the most part, relationships that cross borders are not much different from long-distance relationships within the same country. Research has found that people's attitudes about long-distance relationships and their contentment with their own situation play an important role in determining the success of a long-distance relationship.
Thriving in a Long-Distance Relationship
Step 1
Focus on communication. One of the most important aspects of a long-distance relationship is communication. Traditional forms of communication rely heavily on nonverbal language, such as body language, facial expressions and tone of voice. In a long-distance relationship, these additional forms of communication are often missing, making it very important to communicate effectively and clearly. Always try to say what you mean, and mean what you say.
Step 2
Take advantage of the technology available for making communication in long-distance relationships easier. Using programs such as Skype or Facetime will allow you to communicate face to face with your partner, regardless of where each of you are in the world. Knowing the latest trends in technology and being capable of making use of them will help considerably in making you and your partner feel closer.
Step 3
Be creative in how you spend your time together. Even though you are separated by borders and possibly even oceans, this doesn't mean that you cannot still participate in "traditional" couple activities. You can still do activities together, such as grocery shopping while talking on the phone or watching the same movie while communicating via Skype or chat. Be creative in doing the things you would normally do for your partner if you were together, such as gift giving: leave a group of gifts behind with instructions for when to open them.
Step 4
Manage being in different time zones by creating a consistent schedule for communication. If you set aside a specific time of day to talk or chat, this will help you feel connected with your partner. Furthermore, if you agree to specific times for communicating and set these times aside, free from interruption, it will help ensure that you always have time for each other.
Planning for Travel
Step 1
Investigate the specific immigration, visa and tourist laws and regulations of each of your countries. Depending on the country issuing each of your passports, the rules and regulations about entering the country and how long you can remain for any given visit will vary. Some countries will require that you apply in advance for a tourist visa, while other countries share treaties that allow easy travel back and forth. For example, Canadians and Americans can visit each other's countries for up to six months at a time without applying for special visas. Carefully abide by the laws, as a violation could result in being unable to visit each other's countries.
Step 2
Collect travel points. There are a number of ways to collect travel points to make traveling more affordable. Various credit cards offer travel rewards, including travel points for specific airlines or points that can be used as cash toward any form of travel. In addition to credit cards that provide travel rewards, there are also a number of loyalty programs that can help you earn points for travel. For example, flying on specific airlines will help you earn points redeemable for flights on the same airline or group of airlines. Oftentimes, these loyalty programs also will allow you to earn additional points by presenting the card when making specific purchases, such as for gas, hotel stays or groceries.
Step 3
Learn how to find the cheapest deals for air travel. A number of websites are devoted to providing discounted travel. There are also methods for finding cheaper airfares. For example, instead of sticking to specific departure and return dates, if you are more flexible with your travel dates it is possible to save hundreds of dollars on airfares.
References
Resources
Writer Bio
Karen L. Blair has been professionally writing since 2001. Her work has been published in academic journals such as the "Journal of Sex Research," "Journal of Social and Personal Relationships" and "Psychology & Sexuality." Blair received her M.Sc. in psychology at Acadia University and her Ph.D. in social psychology at Queen's University. She is currently a post-doctoral fellow and research consultant.
Photo Credits
Comstock/Comstock/Getty Images