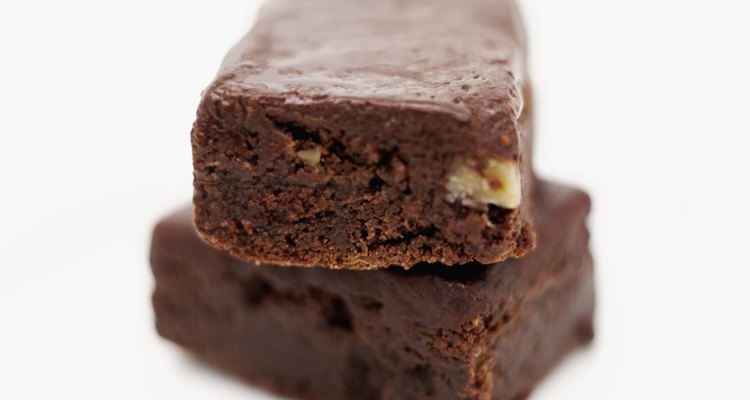 Stockbyte/Stockbyte/Getty Images
Brownie preferences vary across the board -- with nuts, without nuts, spiked with butterscotch, shot through with cream cheese, fruit-daubed, full of chocolate chips, minty or straightforwardly chocolatey in hundreds of variations on the theme. Arguably the most important of these is the texture: cakey, chewy or fudgy. If your preference is the latter, you'll need to cool your brownies quickly because a rapid drop in temperature is the key to a fudgey bite. The bonus: You'll be able to dig in within an hour or so, rather than wait for your brownies to cool for a whopping three to four hours at room temperature to be cleanly sliceable.
Room-Temperature Cooling
Step 1
Line your brownie pan with a single layer of wide, heavy-duty foil, leaving enough material overhanging each end to use as a handle. This allows you to lift the entire brownie sheet from the pan before cooling, removing the heat source of the still-warm pan and exposing more of the brownie to the airflow, faster.
Step 2
Move your brownies from the oven and set them, foil still attached, on a wire rack.
Step 3
Place the rack in the coldest room in your house.
Step 4
Set up a fan near the cooling brownies to keep cool air circulating over all the exposed surfaces.
Extra-Fast Cooling
Step 1
Cool your brownies on the counter, foil liner still attached, for at least five minutes.
Step 2
Move all the food from at least one full shelf of the refrigerator to prepare. Keep in mind the heat from the brownies will raise the temperature of the fridge, using a bit more power than usual and putting temperature-specific nearby foods -- like stick butter -- in danger of melting.
Step 3
Place the brownies inside the fridge, uncovered, on a wire rack.
Step 4
Leave the brownies to cool in the fridge for about 45 minutes.
References
Joy of Cooking; Irma S. Rombauer, Marion Rombauer Becker and Ethan Becker; 2006
Tips
You can cool brownies in the freezer using the same method, but the ultra-quick cooling may toughen the outside of the brownies -- especially the edges -- and make them slightly difficult to cut.
Other than waiting until the brownies are perfectly cool from surface to heart, the best trick to cut perfect brownie squares is also the most type-A-friendly: Use a ruler. Measure the sides of the brownies, gently notching at even intervals, then use the ruler to guide your knife as you cut.
Warnings
Don't cool the brownies for too long in the refrigerator, because it dries them out and may introduce other flavors from the stale refrigerator air.
Writer Bio
Annette O'Neil is an air sports athlete, digital nomad, full-time traveler and yogini. A writer for more than a decade, O'Neil has written copy, content and editorial articles for hundreds of clients and publications, including Blue Skies Magazine and Whole Life Times.
Photo Credits
Stockbyte/Stockbyte/Getty Images