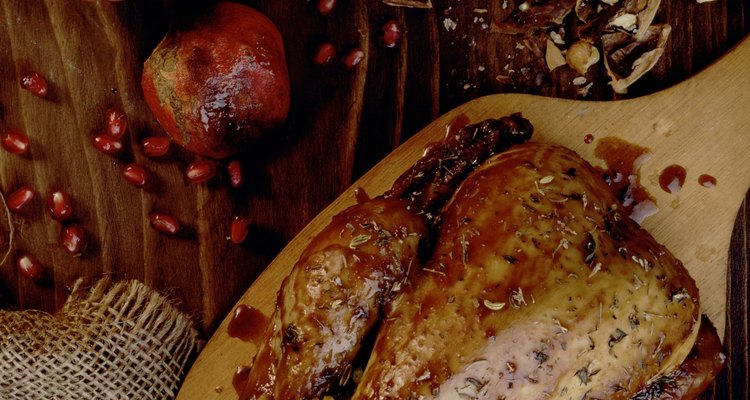 Jupiterimages/Stockbyte/Getty Images
With the exception of its small size, generally less than two pounds, a Cornish game hen is in every way identical to a larger chicken. It tastes the same, is prepared and cooked in the same manner, and is arguably at its best when stuffed and roasted. The benefit of serving roasted Cornish game hens instead of a regular chicken is that portions are self-defined: Every adult gets a whole bird, white and dark meat included. The major attraction though is the presentation. A miniature roast chicken, served with golden, crisp skin just out of the oven, is undeniably charming and sure to bring a smile to the face of even the most staid dinner guest.
Preparing Stuffing
Almost any stuffing flavor combinations you desire will complement the mild flavor of Cornish game hens. Boxed stuffing is an option, but homemade versions allow for more imaginative creations. Start by sautéing diced onions and celery in a little butter until softened, then blend with cubed bread or breadcrumbs, fresh or dried herbs, and a little chicken stock. Cornbread or day-old bread are ideal, but can also be replaced with cooked grains, such as brown rice, wild rice or bulgar wheat. Enhance the stuffing with additional vegetables, perhaps diced carrots, sweet corn or fennel, or a medley of wild mushrooms sauteed with garlic. Fruity additions to consider include diced apples, dried cranberries, apricots or cherries, and lemon zest and juice. Some recipes call for bacon or sausage. Pork sausage with sage and onion are classic stuffing ingredients, but you can experiment with, for example, chorizo, orange zest and parsley, or andouille with red peppers.
Preparing Game Hens
If you are using frozen Cornish game hens, thaw them completely before stuffing. Pat the hens dry inside and out using paper towels, then arrange them on baking sheets with the breast sides up. Leave some room between the hens. Season liberally with salt and pepper, inside and out. Some recipes tell you to brown the hens in a skillet before stuffing and roasting them, but this is not essential. Spoon approximately 1 cup of stuffing into the cavity of each game hen so that it is loosely packed. Keep the stuffing inside by folding the skin over the cavity opening, threading toothpicks through, and tying the legs together with kitchen string.
Roasting Technique and Timing
Set the oven to 350 to 400 degrees Fahrenheit. Prevent the game hens from drying out by rubbing them all over with butter or oil before putting them in a preheated oven. You can also lay strips of bacon over the breasts. Any extra stuffing can be baked alongside the game hens in a baking dish or individual ramekins. Roast the game hens until the stuffing and meat reach at least 165 F, which should take about 45 minutes to one hour. Baste once or twice with the juices while they cook.
Suitable Sides
Stuffing tends to be filling, so keep side dishes simple and light. In colder seasons, roast butternut or acorn squash in a separate dish alongside the game hens. Stir-fry quartered Brussels sprouts, kale, or red cabbage with bacon, mushrooms and pine nuts for an all-in-one vegetable side. A creamy sweet potato soup would also complement a stuffed game hen nicely. When the weather is warmer, serve game hens with a green salad, steamed seasonal vegetables, or new potatoes boiled with a few sprigs of fresh mint.
References
Resources
Writer Bio
Joanne Thomas has worked as a writer and editor for print and online publications since 2004. Her writing specialties include relationships, entertainment and food, and she has penned pieces about subjects from social media tools for Adobe to artists' biographies for StubHub. Thomas has also written for such names as Disney, Hyundai, Michelob and USA Today, among others. She resides in California and holds a bachelor's degree in politics from the University of Bristol, U.K.
Photo Credits
Jupiterimages/Stockbyte/Getty Images