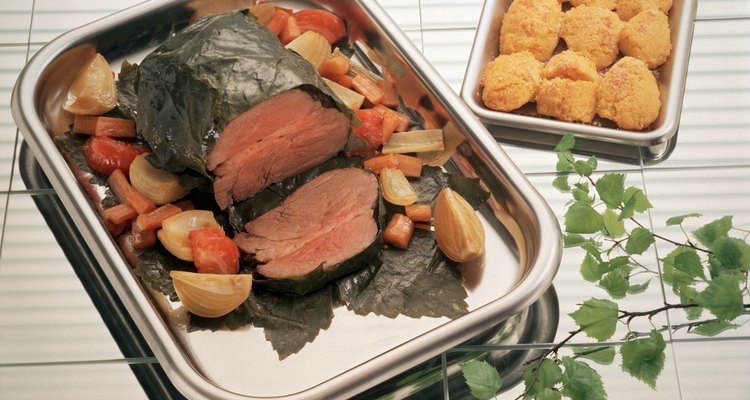 Eising/Photodisc/Getty Images
Lamb chops often get top billing at fine restaurants and maybe even your own kitchen on special occasions. The chops originate from the shoulder -- a cut with a rich, sweet flavor. Despite lamb's lofty status, it's relatively simple to cook a boned, rolled shoulder of lamb. Bring out the best in the shoulder by roasting or braising it -- and make any night of the week a special occasion.
Roast the Shoulder
Step 1
Set your oven to "broil" or 500 degrees Fahrenheit. Prepare a rub for the shoulder with salt, pepper, minced garlic and, if you like the flavor of it, fresh rosemary. Otherwise, try the milder flavor of mint.
Step 2
Set up a two-piece roasting pan. Set the shoulder on the top rack. Press the rub all over the shoulder. Cover the shoulder with aluminum foil to keep it moist while it cooks.
Step 3
Put the roasting pan in the oven and reduce the temperature to 325 F. The quick exposure to high heat sears the shoulder and helps the fat commingle with the seasoning rub.
Step 4
Roast the lamb for about 30 to 35 minutes per pound to achieve a medium-rare state and for 40 to 45 minutes per pound for medium. Check the lamb with an instant-read thermometer. Remove the lamb from the oven and let it rest for about 20 minutes before carving it.
Braise the Shoulder
Step 1
Preheat your oven to 350 F. Truss the shoulder with butcher's twine about every 2 or 3 inches to keep the shoulder intact while it cooks.
Step 2
Heat some olive oil on a medium-high flame in a Dutch oven. Brown the shoulder on all sides, turning it frequently with tongs.
Step 3
Transfer the shoulder to a plate. Bring a liquid seasoning blend to a boil in the Dutch oven. Make several cups, or enough to come up at least halfway on the shoulder. Combine salt, pepper, chicken stock and thyme. Add a little white wine, if you wish, for added flavor.
Step 4
Place the shoulder inside the Dutch oven. Cover the dish and immediately set it inside your preheated oven. Braise the lamb for about three hours, turning it occasionally. Test it with an instant-read thermometer to ensure that it is fully cooked before removing the twine and slicing.
References
Resources
Tips
Serve the shoulder of lamb with mint jelly or melted chevre, a rich French cheese that is creamier than cream cheese, a side of garlic mashed potatoes and roasted, seasonal vegetables.
Writer Bio
Mary Wroblewski earned a master'sdegree with high honors in communications and has worked as areporter and editor in two Chicago newsrooms. She launched her ownsmall business, which specialized in assisting small business ownerswith "all things marketing" – from drafting a marketing planand writing website copy to crafting media plans and developing emailcampaigns. Mary writes extensively about small business issues, andespecially "all things marketing."
Photo Credits
Eising/Photodisc/Getty Images