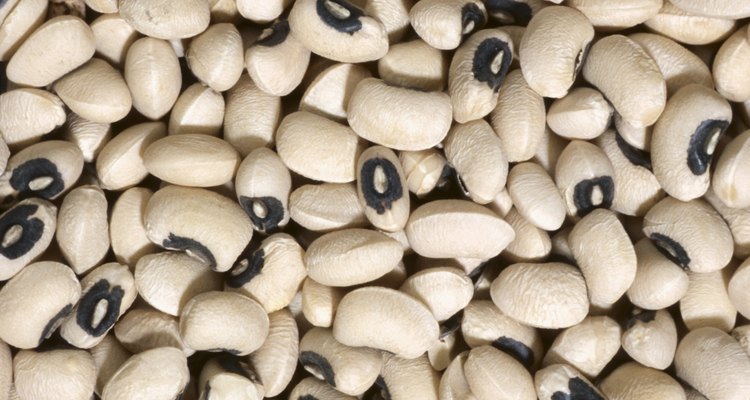 Hemera Technologies/AbleStock.com/Getty Images
Black-eyed peas, also known as cowpeas, have an important place in Southern American cuisine. An affordable staple of regional diets, these legumes are the basis of Hoppin' John, a classic dish with African and Caribbean influences traditionally eaten on New Year's Day for good luck. Variations on Hoppin' John abound, differing from state to state, town to town and even cook to cook; however, black-eyed peas themselves are easy to prepare in a less involved Southern style better-suited to everyday eating.
Standard Southern Preparation
Step 1
Rinse dried black-eyed peas in a colander under cold, running tap water. Sift through them to remove any pebbles, damaged peas or debris. For planning purposes, expect three servings per cup of beans.
Step 2
Put the peas into a large saucepan and immerse them in cold water. Remove and discard any floating beans. Bring the water to a boil; then remove the pot from the heat. Cover it and let the beans stand to rehydrate for 2 hours; then drain them.
Step 3
Preheat the oven to 275 degrees Fahrenheit. Place a Dutch oven or large oven-safe saucepan over medium-high heat on the stove, allow it to heat for about 2 minutes; then coat the bottom with cooking oil.
Step 4
Cut as much bacon into squares as you want in your black-eyed peas. Fry the rashers for about 6 minutes, until the fat renders, turning them once halfway through. Add any other ingredients you want; some typical additions in the South include various combinations of chopped onion, chopped tomato, garlic, chile pepper, hot sauce, salt, black pepper, bay leaves and oregano. Cook everything for about 8 minutes, stirring frequently, until ingredients become tender and nicely browned.
Step 5
Add the black-eyed peas to the dish, then pour in about 3 cups of water per half-pound of beans. Scrape the bottom of the Dutch oven vigorously with a plastic or rubber spatula to deglaze the pan. This releases the cooked-on stuff at the bottom, adding lots of flavor to the meal.
Step 6
Bring the water to a simmer, then cover the Dutch oven. Put it into the middle of the oven and cook the black-eyed peas for about an hour, until they're tender but not mushy. If cooking in a saucepan, let them simmer on the stovetop for about 45 minutes to 1 hour, depending on the amount of peas.
Makin' Hoppin' John
Step 1
Wash dried black-eyed peas and pick through them to rid them of any pebbles, bad peas or other foreign matter. Expect four servings of Hoppin' John per cup of dried beans. Rehydrate the beans in a large saucepan by boiling water and letting them stand for 2 hours; then drain them.
Step 2
Return the black-eyed peas to the large saucepan. Add about 1/2 pound of smoked ham hock or slab bacon per cup of dried beans used. Include chopped onion and freshly cracked black pepper to taste, along with some optional chopped hot pepper, red pepper flakes or hot sauce if you want some kick.
Step 3
Cover all the ingredients by about 3 inches with cold water. Use a combination of water and chicken broth for a saltier, more flavorful preparation. Bring the liquid to a boil over high heat; then reduce to medium-low. Simmer -- don't boil -- for about 1 1/2 to 2 hours, until the black-eyed peas are tender but not mushy.
Step 4
Take out the ham hock or bacon and cut it into bite-sized morsels; then return them to the saucepan. Stir in about 1 cup of uncooked long-grain white rice per cup of dried beans used. Cover the pot and simmer the preparation for about another 20 minutes, until the rice is tender and most liquid is absorbed.
Step 5
Move the Hoppin' John off the heat; keep the saucepan covered and let it sit for another 10 minutes. Mix everything up with a fork and serve the dish hot.
References
Writer Bio
Eric Mohrman is a food and drink, travel, and lifestyle writer living in Orlando, Florida. He has professional experience to complement his love of cooking and eating, having worked for 10 years both front- and back-of-house in casual and fine dining restaurants. He has written print and web pieces on food and drink topics for Visit Florida, Orlando Style Magazine, CrushBrew Magazine, Agent Magazine, Dollar Stretcher Magazine, The 863 Magazine and other publications.
Photo Credits
Hemera Technologies/AbleStock.com/Getty Images