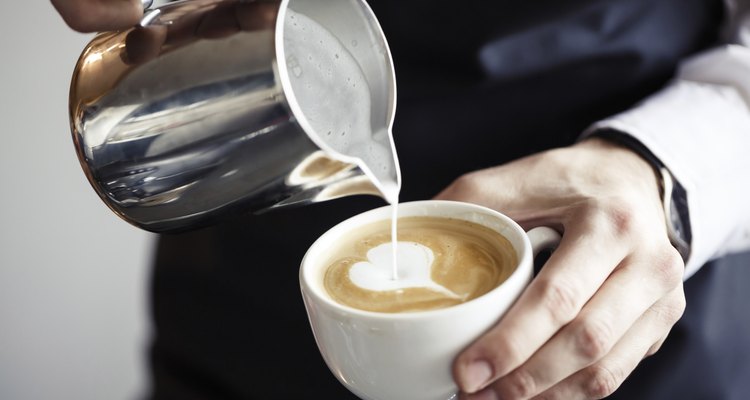 duha127/iStock/Getty Images
Coffee service boils down to two basic styles: informal and formal. Informal coffee service is standard fare during informal gatherings, luncheons and dinners, but is still more formal than what may be offered offer breakfast at a casual diner. Formal service generally occurs as an after-dinner coffee offering, or when serving guests at a formal ceremony or event.
Cup Sizes and Formalities
Coffee is typically served in three cup sizes. Small or demitasse cups are used to serve espresso and strong black coffee after a formal dinner. Medium-sized cups, known as teacups, are most often used at meals. Large coffee cups are only used at informal family meals and during breakfast. A coffee cup of any size sits upon a saucer. A spoon should be included on each saucer and placed to the right of the cup handle. A coffee tray will include a coffeepot, a pitcher of cream and a bowl of sugar with a spoon.
Informal Coffee Etiquette
For informal meals, coffee is prepared beforehand. The hostess can set the coffee tray down on its own table so guests can get up after the meal and prepare their own coffee. She may also choose to set the coffee tray down by her own place setting and serve each guest herself. In the latter case, the hostess may put in cream and sugar in a cup upon each guest's request. She can also choose to pass around cream and sugar after the coffee cups have been distributed, allowing the guests to help themselves.
Informal Service With Help
A server may place the coffee service tray in front of the hostess, who then pours a coffee cup for each guest, asking each person for his sugar and cream preferences. The server places the cup to the right of each guest. The server can also serve each guest individually by standing to his or her right with the coffee pot on a tray. After stirring in sugar and cream per the guest's request, the server will place the coffee cup to the right of the guest's plate. If the guest wants to mix in his own sugar and cream, the server will stand to the left of the guest, holding the tray of sugar and cream at a convenient height.
Formal Coffee Etiquette
Formal occasions often have servers in charge of coffee service. One server may be in charge of one table. In this situation, he has several cups of coffee on a tray with cream and sugar. He walks around the table -- asking each guest whether she would like coffee -- and then stands to the left of the person while she adds sugar and cream.
Two servers can also work together. One holds a tray with a coffeepot, one cup, and sugar and cream. The other server stands behind him with a tray filled with extra cups and saucers. The first server offers the guest the cup of coffee on the tray and ask her whether she would like cream and sugar. After serving one guest, the second server hands the first server another cup and saucer.
References
Writer Bio
Damin Chu is a freelance writer, whose writing has taken her down a number of avenues. In 2008, she returned from Shanghai, China, where she served as the managing editor of a China travel guide, in addition to writing travel features for the local newspaper. Her other projects have included writing for a Shanghai expat guide, a education documentary, and an environmental NGO.
Photo Credits
duha127/iStock/Getty Images