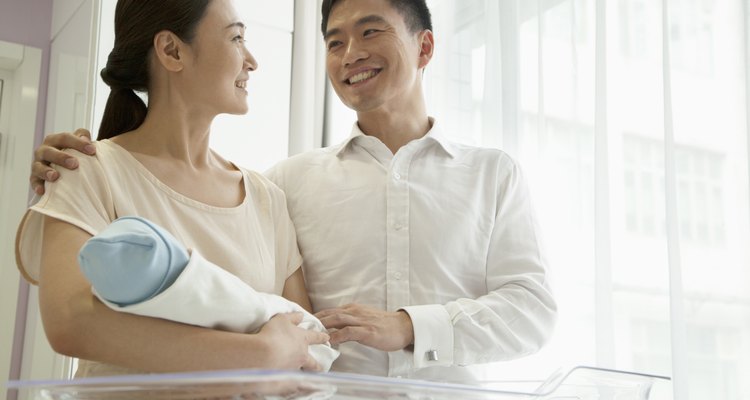 XiXinXing/iStock/Getty Images
A new baby is a joyful little reminder of all things precious and unspoiled. In every culture, the birth of a baby is celebrated with traditional -- and increasingly homogenized -- gift giving. Certainly a gift of blocks or board books, clothing or learning toys are appropriate for a Chinese baby, but a nod to tradition shows respect for the baby's heritage and comes with an ancient legacy of good will and blessings.
Red Letter Day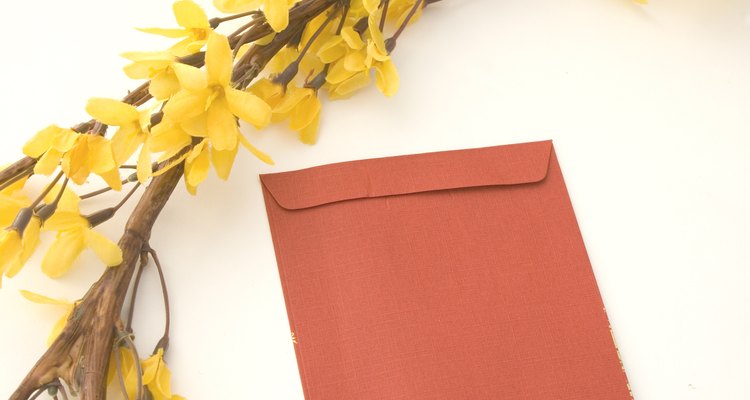 Lisa Nguyen/iStock/Getty Images
On the day a newborn turned 1-month-old, Chinese tradition held out hope for its long-term survival. That was the day the parents invited friends and family to celebrate the birth, and the red eggs appeared. Customs differed in different parts of the vast country. Dyed red eggs were given to grandparents, to parents in honor of the birth, and to friends and family by the parents to announce the joyous occasion. Much clearer is the custom of the red envelope. Red envelopes are given in China on important occasions, such as the Lunar New Year, and always contain gifts of money to symbolize good fortune for the recipient. Red is the color for happiness in China; eggs are reminders of growth and harmony; and money is both immediate good fortune and symbolic.
Bejeweled Baby
lachris77/iStock/Getty Images
Celebrate the beautiful baby with a jade or silver bracelet or necklace. Jade was valued more highly in ancient China than gold or silver, and it is believed to embody the qualities of purity, preciousness, beauty, courage, compassion, wisdom, intelligence, loyalty and fairness. That's a lot of positive chi for a little baby, so a jade trinket, charm or bangle is an auspicious gift. Silver makes a pleasant, jingly noise when the baby moves, a sound that will scare away bad energy or threats. Grandparents have traditionally given the baby a gold bracelet, a gift that is no less treasured when it comes from someone who values the child and her parents.
Fierce Kicks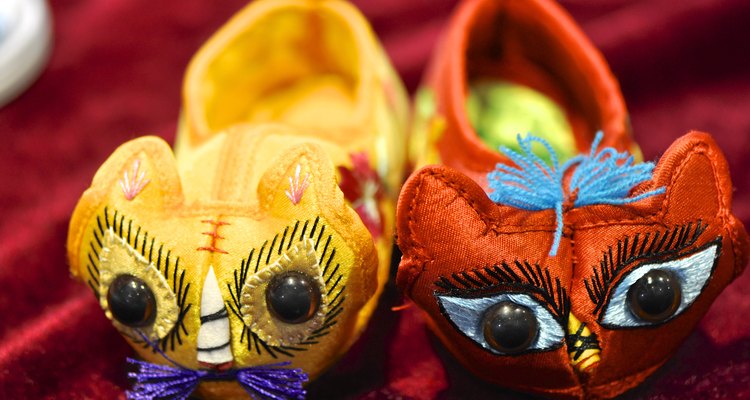 momo_leif/iStock/Getty Images
Pretty silk embroidered baby shoes are a decorative and protective present for a Chinese baby. The traditional shoes feature colorful tiger face uppers with big searching eyes. In China, the tiger is the king of beasts -- there are no lions in China -- and the fierce cat is believed to ward off evil or misfortune. The great eyes are supposed to watch the baby's first steps to help stabilize him and protect him from harm. And the Chinese habit of borrowing characteristics from symbols means that a child wearing tiger shoes is absorbing strength and courage. That's tough to match with a mere pair of sneakers. Perhaps within another generation, the real Chinese tigers will evolve to mythological beasts, as they are severely endangered.
Longevity Lockets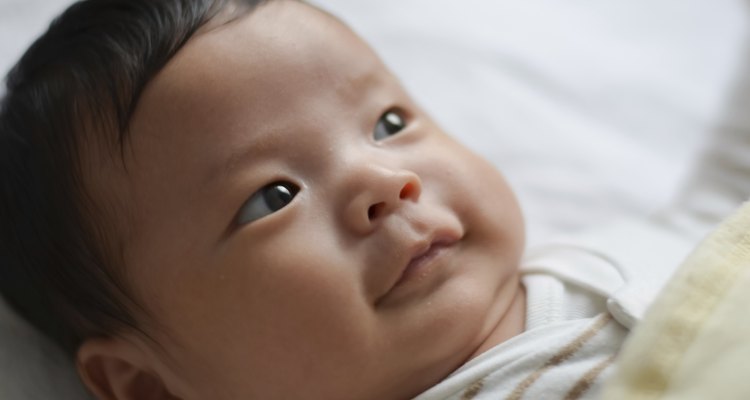 Conditions were harsh for most of the Chinese population, and childhood mortality was very high. On the 1-month anniversary of a child's birth, a member of the family -- relative or a parent -- would fasten a silver locket around the neck of the child as a talisman to ward off sickness or accident and ensure the baby a long and fruitful life. The lockets were engraved with symbols for long life and good fortune, and with symbolic scenes from Chinese mythology. It was custom for the locket to stay in place until the child married. A tiny silver longevity locket makes an appropriate gift for a baby you are related to or connected to as a godparent.
References
Writer Bio
Benna Crawford has been a journalist and New York-based writer since 1997. Her work has appeared in USA Today, the San Francisco Chronicle, The New York Times, and in professional journals and trade publications. Crawford has a degree in theater, is a certified Prana Yoga instructor, and writes about fitness, performing and decorative arts, culture, sports, business and education .
Photo Credits
XiXinXing/iStock/Getty Images