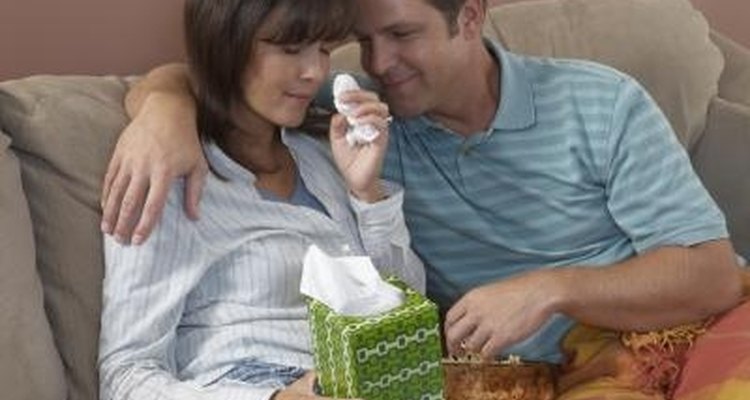 Wendy Hope/Stockbyte/Getty Images
Cheering someone up after a death is a wonderful gesture and a great sign of friendship. People mourning the loss of a loved one are susceptible to depression even if they don't show signs outwardly. According to Helpguide.org, a nonprofit website focusing on grief management, staying in touch with your friend is important because grief can linger for years. Your friend's pain may never leave permanently, but kind words and a bright smile from you may certainly help.
Attend the funeral or worship service if possible, even if you do not know the deceased. Let your friend know you are present by sitting with her, if appropriate. Also, try to make eye contact or offer a hug at the right time.
Send a thoughtful, handwritten note after the funeral. Mention the deceased by name as you tell your friend how sorry you are for the loss and the pain he is feeling. Tell the friend you realize he is going through a lot, but that you'd really like to meet for coffee after work, or maybe a meal. Suggest a specific time and tell your friend you'll call to follow up.
Seal the note in an envelope and have it delivered with flowers that strike the right tone -- not too somber, but not giddy either. Have the florist help with picking out just the right arrangement.
Call your friend to follow up on coffee or dinner. Listen as she talks as much as she wants about her grief. Nod knowingly when appropriate while consoling her. Also encourage her to remain upbeat as she cherishes the memory of her loved one. The American Hospice Foundation recommends that you review a personal grief experience to help understand what your friend is experiencing as you comfort her. American Hospice Foundation author Helen Fitzgerald cautions that helping a bereaved friend is hard work, and that your friend will need you for months to come.
Keep finding more things to do with or for your friend. Take in a movie, watch the kids one afternoon while sending letters and cards often.
References
Resources
Writer Bio
Robert Lee has been an entrepreneur and writer with a background in starting small businesses since 1974. He has written for various websites and for several daily and community newspapers on a wide variety of topics, including business, the Internet economy and more. He studied English in college and earned a Bachelor of Arts in liberal arts from Governor's State University.
Photo Credits
Wendy Hope/Stockbyte/Getty Images