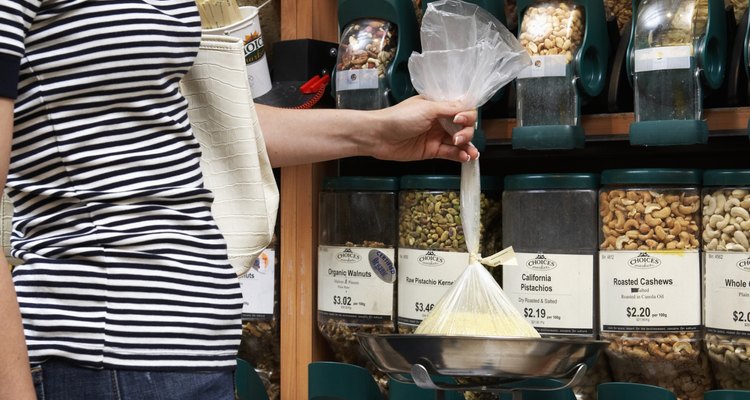 Noel Hendrickson/Digital Vision/Getty Images
You don't have to live in the South to serve grits. The tasty side dish is an easy accompaniment to chicken, beef, shrimp or pork wherever you happen to reside, for breakfast, brunch or dinner. The oven may come into play as you prepare grits, depending on the texture you want in the finishing product. They do require a little softening on the stovetop first.
The Nature of Grits
Grits start out as corn, which is dried and ground into smaller pieces. When you purchase it at the store, it is called stone-ground cornmeal or coarse cornmeal. "instant grits" or "quick cooking grits" less granular than the regular, coarse grits. Many southerners won't use anything but the regular, coarse grits, which are considered authentic. Whether you bring home coarse cornmeal or or quick-cooking variety, you can't just toss them into the oven from the beginning.
Keep Stirring
To get your grits to the consistency you want, add a liquid at a 4:1 ratio of liquid to grits, then bring the mixture to a boil -- and stir it often. Coarse cornmeal will usually cook in about 10 minutes, and the quick-cooking variety will cook in five to eight minutes. Instant grits require only boiling water and a quick stir. You may serve grits straight from the stovetop, but many dishes call for time in the oven first.
The Oven Finisher
Cheesy grits are finished in a 350 degree F oven for 30 minutes to an hour. The end result is an overall firm texture, not the porridge-like texture they acquire in a saucepan. After stovetop cooking, incorporate milk and eggs into the mixture, along with the cheese. Then pour it into a baking dish and slide it into the oven. When it is finished, you can actually scoop it out of the baking dish in squares that hold their shape for serving.
Your Own Identity
Once you've perfected basic grits, add your own spin. Stir in chicken stock instead of water, or include minced garlic, chopped jalapeno or unexpected cheeses. Sharp or extra-sharp cheddar is common, but Parmesan or gouda will add a new dimension to the grits, whether you finish them in the oven or not. Experiment with ingredients to find a grits dish that is completely your own.
References
Writer Bio
Joshua McCarron has been writing both online and offline since 1995. He has been employed as a copywriter since 2005 and in that position has written numerous blogs, online articles, websites, sales letters and news releases. McCarron graduated from York University in Toronto with a bachelor's degree in English.
Photo Credits
Noel Hendrickson/Digital Vision/Getty Images