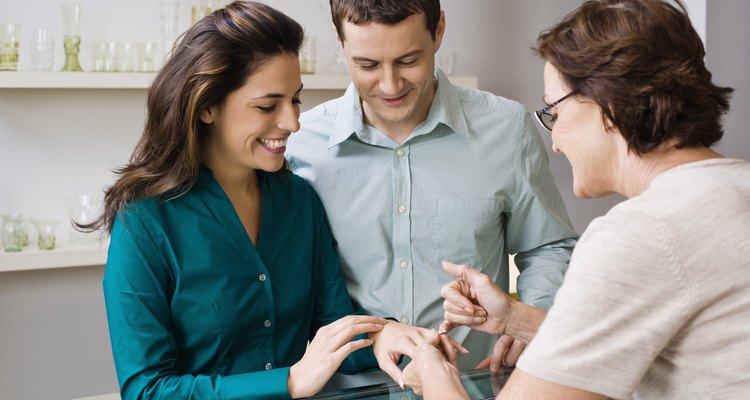 Dynamic Graphics/Creatas/Getty Images
Tungsten rings cannot be re-sized under normal circumstances by any jeweler. Many jewelers offer lifetime warranties that cover rings that may need to be resized. In the case of tungsten rings, they must be replaced.
Re-sizing
Tungsten rings cannot be re-sized because of tungsten's physical properties. According to many jewelry sites, tungsten rings are 10 times harder than 18K gold and four times harder than titanium. Tungsten also has a very high melting temperature of 6170.0 degrees Fahrenheit.
Sizing Options
When it comes to tungsten rings, sizing options are limited. However, many jewelry stores offer re-sizing warranties that will cover the ring if one should need it to be sized. In the case of a tungsten ring, the purchaser must ship or return the ring to the store it was purchased and a new ring will be sent to him or her.
Benefits
Tungsten is a very hard metal. It will not bend like gold rings do. It is also difficult to scratch due to its physical properties. Due to the fact it is almost impossible to scratch, it holds its polish as well.
Considerations
Tungsten rings are more brittle than other metals because they are so hard. While the ring will not bend, this could cause the ring to shatter if it were struck.
Tungsten rings are often sold as an alloy with cobalt. Cobalt has properties that, when in contact with oils in skin, could permanently tarnish the ring.
Purchasing
When purchasing a tungsten ring, it is important to remember to buy a ring that is cobalt free as well as one that comes with a warranty (or a separate purchasable warranty) that covers resizing.
References
Writer Bio
Jennifer Lott has been a blog writer since June 2008. She holds a Bachelor of Business Administration in marketing communications. Her degree has an emphasis in public relations. She has taken classes devoted to AP Style writing and writing for the media while in college. She is also an avid cell-phone and gadget enthusiast, even working for Sprint in 2010.
Photo Credits
Dynamic Graphics/Creatas/Getty Images