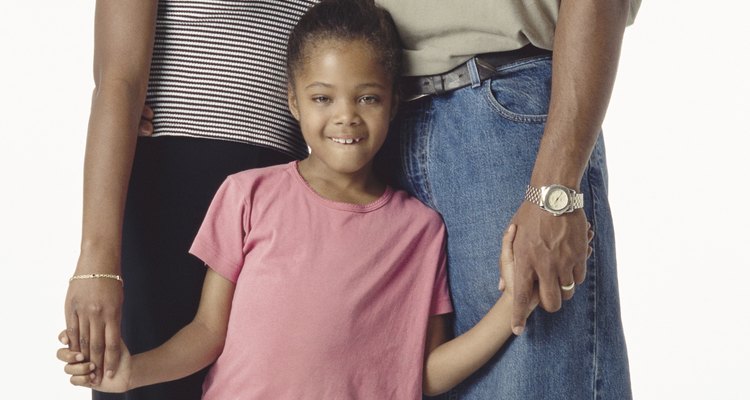 Photodisc/Photodisc/Getty Images
Fathers who are married to their children's mothers tend to be more nurturing, according to research discussed in the Child Welfare Information Gateway article "The Importance of Fathers in the Healthy Development of Children" by Jeffrey Rosenberg and W. Bradford Wilcox of the U.S. Children's Bureau. There appears to be an increased awareness of the importance of father-child and husband-wife relationships -- more books are being written to help men be not only the best fathers possible but also the best husbands.
Christian Perspectives
Many books on being a good father and husband have been written from a Christian perspective. One such book is the 2012 national bestseller "Be a Better Dad Today," written by Gregory Slayton, a husband of more than 25 years and a father of four. The author gives equal attention to fatherhood and the importance of being a great husband and leader of the family unit. While the book is written within a Christian context, it presents fatherhood as a lifelong spiritual journey. Individuals who purchase a copy of the book are invited to become active members of the Fellowship of Fathers support website.
Psychological Expertise
There are also books written by mental health professionals about fatherhood for a nonclinical audience. One of these books, "Finding Time for Fatherhood Concerns," is written by psychologist and marriage, family and child specialist Bruce Linton, Ph.D. Dr. Linton uses psychological research and his experience with fathers from the men's groups he facilitates to offer insights into the influence fathers have on their children's development. He stresses the importance of men supporting one another in order to be better fathers. The book also addresses fears that fathers have, changes in the marital relationship that arise with parenthood, parenting as a divorced father and parenting special needs children. Self-reflection and discussion questions are also integrated into the book.
Humorous Perspectives
Pete Densmore's humorous book, "DADspirations: The 1st 100 Days of Fatherhood. Tips for Parenting Every New Dad and Dad to Be Should Know," encourages fathers to nurture themselves as well as their marital relationships as they bond with their infants. Some information about infant development is well-integrated in a nonacademic style. The book also offers specific activities to capture precious moments in the infant's development in addition to ideas for dates. The book was a finalist in the parenting and family category of the 2013 National Indie Excellence Awards.
Parental Reflections
"Letters to My Son: A Father's Wisdom on Manhood, Life, and Love" is a book of essays written by Kent Nerburn to his son. Nerburn offers his wisdom on the journey of manhood, which includes being a good father and husband, through a spiritual lens. There are essays regarding fatherhood, marriage and existential themes, such as loneliness and aging, focused on helping men open up to spiritual growth and development so they can become the best husbands and fathers possible.
References
Resources
Writer Bio
Sonya Lott, Ph.D. is a licensed psychologist in Pennsylvania, who offers online and in office counseling to individuals struggling with grief, loss or a life transition. She also facilitates mental health workshops for educational, professional, and community groups and maintains a blog on her website www.drsonyalott.com.
Photo Credits
Photodisc/Photodisc/Getty Images