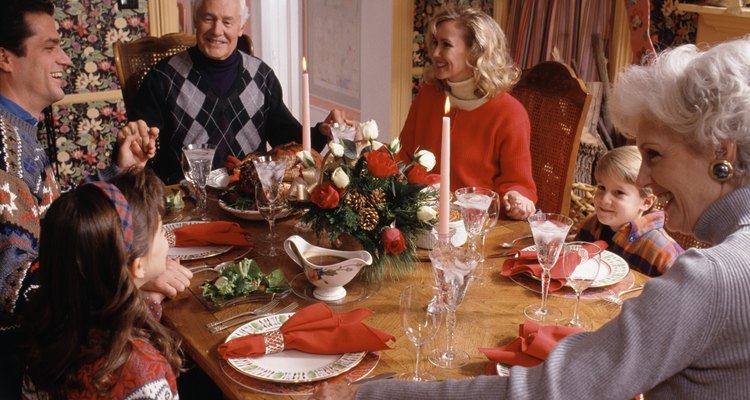 Dick Luria/Photodisc/Getty Images
Traditions link generations and provide the narrative that the family tells about itself -- the story of grandmother's annual midsummer night picnics at the vacation cottage stars the newest babies, the family matriarchs and patriarchs and everyone in between. As children grow, family rituals may need to adapt to the changes in family dynamics. But continuity connects family members to the larger culture and gives each individual a sense of security and identity in a small, well-defined tribe.
Birthday Bash
American birthday parties are steeped in homegrown tradition. From preschoolers to seniors, the heart of the family birthday follows a recognizable pattern year after year. A party gets decorations like balloons, streamers, flowers, special plates and napkins, and party hats. Gifts could include a new book each year, from infancy on, to build a personal library and a love of reading. A cake alight with a candle for each year is standard. So is singing "Happy Birthday to You," making a secret wish and trying to blow out the candles with one breath so the wish will come true. The most American thing about these birthday traditions is that familiar song. It was written by two kindergarten teachers – Patty and Mildred Hill -- in Louisville, Kentucky, in 1893.
A Big Thanks
George Washington was the first president to issue a national Thanksgiving Day proclamation but it took Abraham Lincoln to formally set aside the third Thursday in November as the annual American Thanksgiving observance. Today, Thanksgiving is the most traveled holiday of the year as Americans gather "at home" for a feast of turkey with all the trimmings. The Macy's Thanksgiving Parade is a nationwide television spectacular – and spots along the parade route are coveted. Afternoon football is another reason to gather around the screen. Vegetarians may substitute tofu for turkey but apple, pumpkin and pecan pies are classic desserts everyone can sample. And, religious or not, the whole family can pause before chowing down to give thanks for the blessings of the past year and the grace of sharing Mom's cornbread stuffing together.
Food, Fireworks and the Fourth
Thomas Jefferson spent barely two weeks drafting the Declaration of Independence in 1776 -- the nation he helped to found has been partying hard on July 4th for more than 200 years. Independence Day is an annual excuse for Americans to fire up the backyard grill, slather on the relish and mustard, serve up the potato salad and settle down for spectacular fireworks after dark. In small towns across America, kids and parents line Main Street for a glimpse of marching high school bands, local officials and beauty queens waving from convertibles firetrucks and inventive floats. Families make the annual trek to riverbank, lakeside, beachfront or park to watch public fireworks displays. On July 4th, hoist a flag from the front porch, muster up a multi-generational game of softball, and cool down with slices of chilled watermelon and fresh-squeezed lemonade.
Sunday Supper
Sunday supper is an American tradition with its roots in ethnic cultures and its benefits under the research microscope. Italian, Irish, Hispanic and African-American families historically spent Sundays in church -- and at the table together. These days, the family meal is a casualty of chronic overscheduling. But the glue that binds a family together and keeps every member heard and healthy is the family meal, so reviving traditional Sunday supper provides nurture on multiple levels. Research shows that sitting down at the table together gives children more stability, healthier eating patterns, less obesity and better verbal communication skills. Teens who eat with their families are at lower risk for depression, drug use, early sexual relationships and emotional stress. They tend to do better academically, are more at ease socially and develop a strong sense of identity and belonging.
References
Writer Bio
Benna Crawford has been a journalist and New York-based writer since 1997. Her work has appeared in USA Today, the San Francisco Chronicle, The New York Times, and in professional journals and trade publications. Crawford has a degree in theater, is a certified Prana Yoga instructor, and writes about fitness, performing and decorative arts, culture, sports, business and education .
Photo Credits
Dick Luria/Photodisc/Getty Images