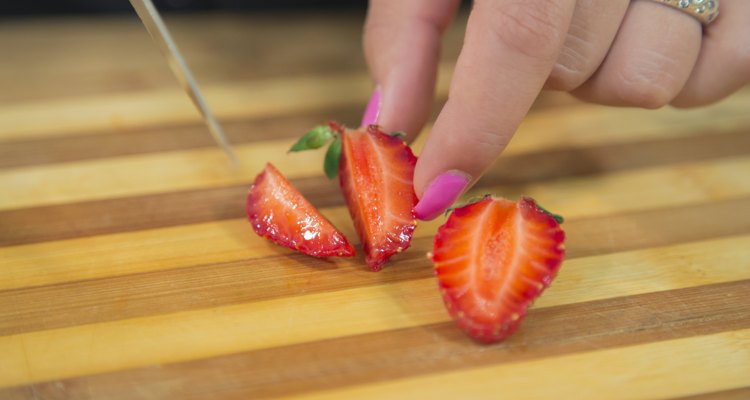 FotoCuisinette/iStock/Getty Images
Fresh strawberries can enliven a shortcake, sweeten a smoothie and make muffins special, but they also cook down magnificently. Turn strawberries into jam to enjoy their luscious flavor well past their season or cook them into a coulis for an elegant dessert presentation. Strawberries retain their vivid color and much of their vitamin C when cooked, so they're as healthful as they are beautiful.
Boiling Strawberries
While a simple fresh strawberry sauce requires little more than macerating sliced berries in sugar, a more elegant fruit topping comes from boiling the strawberries in simple syrup. Cut the green tops off fresh strawberries before cooking them. Slice large berries into halves or quarters so they cook more quickly and place them in a saucepan with just enough water to cover them. Add sugar to your taste -- about one-quarter cup per cup of berries is a good place to start -- and boil the berries over medium heat until they become soft enough to mash with a fork. Pour the sauce over pancakes or angel food cake.
Strawberry Jam
Strawberry jam is really just strawberry sauce with pectin, a soluble fiber, added to thicken it. If you aren't used to making your own preserves, pectin may be an unfamiliar ingredient to you, but you'll find instructions for use printed on the package. Most recipes for strawberry jam contain a large amount of sugar; while you might be tempted to reduce the amount, the sugar acts as a natural preservative, so it's vital to use it as specified in the recipe. Lemon juice in strawberry jam recipes also helps keep the final product free from contamination. Always sterilize canning equipment and bring all ingredients to a rolling boil for safe canning.
Strawberry Coulis
A coulis is a sophisticated name for a cooked fruit sauce. To make a strawberry coulis, boil strawberries with sugar and water until they turn soft as you would for a typical strawberry sauce. When the strawberries are fully cooked and the sauce has reduced by about a quarter, add a teaspoon of balsamic vinegar or lemon juice per cup of strawberries. Note that these measurements are per cup of raw or frozen strawberries, not per cup of the reduced sauce. Blend the sauce thoroughly with a stick blender and pour it through a sieve to remove the seeds and some of the pulp. Serve the coulis under a slice of dense chocolate cake or drizzled over ice cream.
Strawberry Nutrition
Strawberries are low in calories, at only 50 calories per cup, but adding sugar during boiling to make jam or sauce makes the finished product more caloric. The berries are an excellent source of vitamin C, providing more than a day's worth of the vitamin in an average 2,000-calorie diet. You'll also get 4 grams of fiber per cup of strawberries.
References
Writer Bio
Lauren Whitney covers science, health, fitness, fashion, food and weight loss. She has been writing professionally since 2009 and teaches hatha yoga in a home studio. Whitney holds bachelor's degrees in English and biology from the University of New Orleans.
Photo Credits
FotoCuisinette/iStock/Getty Images