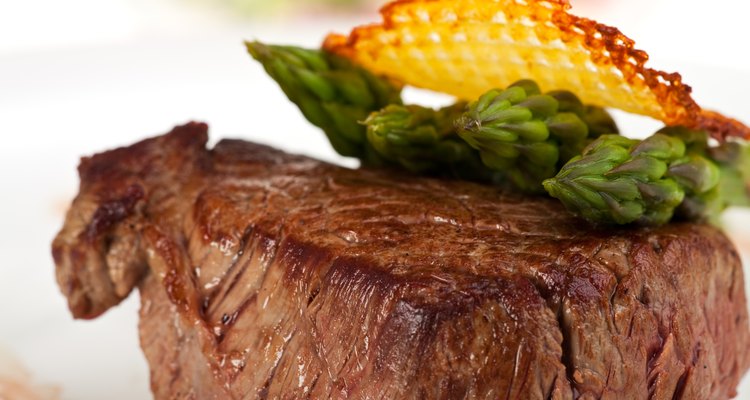 Zoonar RF/Zoonar/Getty Images
The Pampered Chef Roaster is a versatile piece of cooking equipment that is large enough to make a 4 lb. beef roast. The roaster is made from stone, so it evenly spreads heat throughout, allowing for an evenly cooked piece of meat. After your food is done, you can leave the roast in the roaster, as its stoneware material holds the heat from the oven, keeping your food warm. Cooking a beef sirloin top roast in the Pampered Chef Roaster is easy and provides a nutritious meal for you and your family.
Cooking a Tender Beef Sirloin Tip Roast
Allow the roast to warm up to room temperature. Do this by removing it from the 'fridge. Let it sit out for two hours.
Preheat your oven to 550 degrees Fahrenheit.
Lightly grease the inside of the roasting pan. Place the roast in the pan, fatty side up.
Immediately reduce the heat to 350 degrees Fahrenheit and place the roast in the oven. Keep the roast uncovered and do not add any liquid.
Cook the roast for 18 to 20 minutes per pound for a rare roast. The internal temperature of the roast should read between 140 degrees Fahrenheit for a rare cut and 170 degrees Fahrenheit for a well-done roast.
References
Joy of Cooking; Irma S. Rombauer and Marion Rombauer Becker
Writer Bio
Laura Niedziocha began her writing career in 2007. She has contributed material to the Stoneking Physical Therapy and Wellness Center in Lambertville, N.J., and her work has appeared in various online publications. Niedziocha graduated from Temple University with a Bachelor of Science in exercise science. She also has her Associate of Arts in communications from the Community College of Philadelphia.
Photo Credits
Zoonar RF/Zoonar/Getty Images