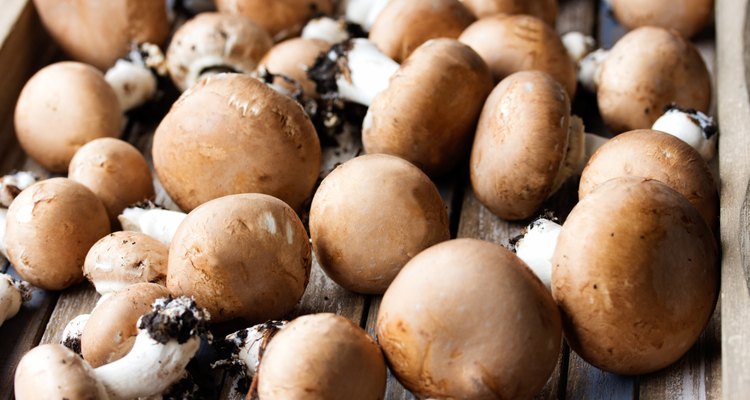 oxyzay/iStock/Getty Images
Baby portobello mushrooms are a low-calorie food that only have around 20 calories, 2 grams of protein and 3 grams of carbohydrate in 1 cup. Bake portobello mushroom caps using high heat to draw out enough moisture to intensify the flavor. However, this can cause sliced and thin mushrooms to become leathery. If baking sliced portobello mushrooms, use lower heat instead.
Preheat the oven to 500 degrees Fahrenheit if you are baking portobello mushroom caps and 400 degrees Fahrenheit if you are baking sliced mushrooms. Position the oven rack to center of the oven.
Gently wipe the mushrooms with a paper towel. If there is visible dirt, rinse them slightly.
Trim of the stems from the caps and save them for other use, or slice the mushrooms to three to four slices that are not too thin or thick.
Place the mushrooms on a lightly oiled baking dish, round cap side up if using whole caps.
Brush the caps with 4 tablespoons of melted butter or olive oil or a mixture of each. Drizzle sliced mushrooms with the butter. Sprinkle salt and black pepper to taste.
Place the baking dish to onto the oven and bake for six minutes. Remove the dish from the oven and turn the mushrooms with tongs. Sprinkle with 2 tablespoons of melted butter or olive oil, salt and black pepper to taste. If baking sliced mushrooms, bake until they have browned, approximately five to eight minutes, remove from the oven and serve.
Return to the oven and roast for another five to six minutes. Remove from the oven and sprinkle with chopped fresh herbs, such as chives, parsley and tarragon, Parmesan cheese, salt and black pepper.
References
"Joy of Cooking"; Irma Rombauer, et al.; 1997
Writer Bio
Maria Hoven is a health and fitness expert with over 10 years of expertise in medical research. She began writing professionally in 2004 and has written for several websites including Wound Care Centers and healthnews.org. Hoven is earning a Doctor of Philosophy in cell and molecular biology from the University of Nevada, Reno.
Photo Credits
oxyzay/iStock/Getty Images