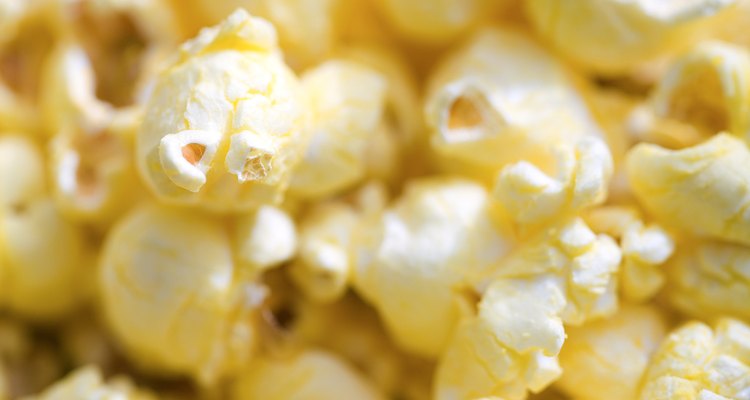 Jupiterimages/Photos.com/Getty Images
Whether you are looking for a light afternoon snack or suffering from a case of the late night munchies, grilling popcorn puts a new spin on an old favorite. When it comes to popcorn, your grill can do just what a microwave and stove top can. Popcorn kernels are water-filled seeds, and when the grilling temperatures are right, the water turns to steam, rupturing the seed coat until it pops. If you can fire up a grill, you can make those kernels pop.
Step 1
Add enough vegetable oil to coat the bottom of a disposable aluminum half-size baking pan. The average half pan measures approximately 10 x 12 x 3.
Step 2
Pour a cupful of popcorn kernels into the baking pan.
Step 3
Cover the baking pan loosely with aluminum foil.
Step 4
Fire up your grill, and wait for the thermometer to read between 450 and 500 degrees Fahrenheit -- high heat.
Step 5
Place the baking pan on the grill rack.
Step 6
Give the baking pan a shake every 20 to 30 seconds with a pair of grilling tongs until you start to hear the kernels pop.
Step 7
Grill the popcorn until the popping stops -- about 8 to 10 minutes -- and then remove the baking pan from the grill with a pair of cooking mitts. Season the popcorn to taste.
References
Tips
If you do not have vegetable oil, canola oil will also do.
Experiment with different seasoning to change the taste of the popcorn each time you grill. Try salt, melted butter, garlic powder, onion powder, chili powder or even some melted cheese when you are looking for a popcorn pick-me-up.
If your grill does not have a thermometer, try the hand test. Hold your hand 3 inches above the grill grate. Then count the seconds that your hand can comfortably remain above the grate without the need to pull it away. If you can only hold out for 1 to 2 seconds, the heat is high.
On days when grilling is out of the question, give your microwave popcorn that grilled taste by sprinkling on paprika, salt, melted butter and some brown sugar, to taste.
Warnings
Don't leave the baking pan on the grill past the popping point. Once you do not hear anymore popping, remove the baking pan immediately or the popcorn may burn.
Writer Bio
Jonae Fredericks started writing in 2007. She also has a background as a licensed cosmetologist and certified skin-care specialist. Jonae Fredericks is a certified paraeducator, presently working in the public education system.
Photo Credits
Jupiterimages/Photos.com/Getty Images