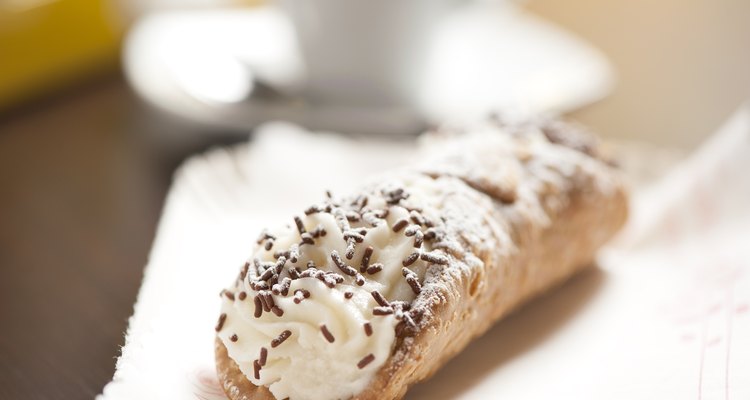 FabioBalbi/iStock/Getty Images
Cannoli, an Italian dessert, consists of fried sweet pastry shells filled with sweetened soft cheese. ricotta cheese makes an ideal filling for cannoli. However, the moisture in the ricotta can make the pastry soggy or cause the filling to ooze out of each end. You can get rid of some of the moisture by beating the cheese into a very fluffy consistency; this helps keep the ricotta filling firm.
Cut a piece of cheesecloth large enough to line a colander with lots of material spare at the top. Dampen the cloth with cool water and place it into the colander. Put the colander into a sink.
Spoon ricotta cheese into the lined colander. Use 2 oz. of ricotta cheese per serving, but ideally, make a large batch of 1 lb. of ricotta or more. Leave to drain for 30 minutes.
Remove the ricotta from the colander and discard the cheesecloth. Replace with a fresh layer of dry cheesecloth, put the ricotta back into the colander for another 30 minutes.
Pour the ricotta out of the colander and into a dry mixing bowl. Use a fork or electric whisk to beat the ricotta well until it stands in firm peaks.
Add confectioner's sugar. Sprinkle it in gradually while whisking the cheese. Use 1/2 cup of sugar per pound of ricotta. You can thicken the filling by adding cornstarch -- about 1 tbsp. at a time -- until it has the thickness you desire. Refrigerate the filling for a minimum of 1 hour before filling the cannoli shells.
Insert the filling in the cannoli shells when you are ready to eat them. Leaving the filling inside too long makes the cannoli soggy.
References
Writer Bio
Based near London, U.K., Peter Mitchell has been a journalist and copywriter for over eight years. Credits include stories for "The Guardian" and the BBC. Mitchell is an experienced player and coach for basketball and soccer teams, and has written articles on nutrition, health and fitness. He has a First Class Bachelor of Arts (Hons.) from Bristol University.
Photo Credits
FabioBalbi/iStock/Getty Images