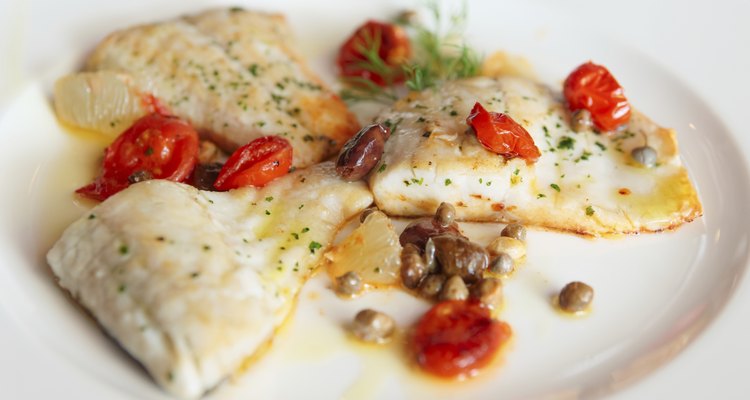 Kondor83/iStock/Getty Images
Sea bass is a fish found in areas of the Mediterranean and North Atlantic that is sought after by many sports fishermen. Sea bass is a quality protein source, with flaky white meat. The delicate flesh of sea bass stands up well to less intrusive forms of cooking such as poaching, which refers to cooking in a liquid such as water, wine or stock. You can find sea bass at some grocery stores and most fish markets.
Place a pan or skillet on the stove over high heat. Add liquid such as white wine, vegetable or fish stock, water, or a combination to total about two cups.
Add aromatic vegetables and herbs such as diced onion and garlic, leeks, carrots, bay leaf, thyme or rosemary to add flavor to the poaching liquid. Stir the vegetables around and let the liquid come up to the boil.
Reduce the heat and simmer the mixture gently for five to 10 minutes.
Place sea bass fillets into the liquid, skin side up if the skin hasn't been removed.
Cover the skillet and poach the fish for six to eight minutes, until the fillets have been cooked through. The flesh should flake off easily.
Remove the fillets from the pan and serve them over rice, or with a salad and side vegetables.
Writer Bio
Joshua McCarron has been writing both online and offline since 1995. He has been employed as a copywriter since 2005 and in that position has written numerous blogs, online articles, websites, sales letters and news releases. McCarron graduated from York University in Toronto with a bachelor's degree in English.
Photo Credits
Kondor83/iStock/Getty Images