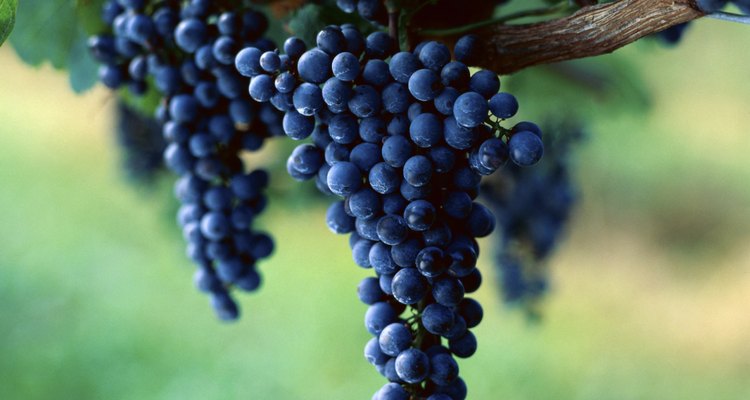 Purestock/Purestock/Getty Images
Green tea, olives and grapes all have something in common: They contain polyphenols, a compound that can have a number of beneficial effects in or on the body. Polyphenols belong to a group of antioxidant compounds known as catechins. Knowing how polyphenols can positively impact your skincare regimen can help you achieve younger, healthier-looking skin.
Polyphenol Skincare Research
A study published in a 2009 issue of "Journal of Agricultural and Food Chemistry" studied the effects of applying different levels of polyphenols on the skin. Participants applied either 92 or 20 percent tea polysaccharides or 98 percent polyphenols on their skin. After frequent application, participants were measured for moisture absorption, retention, sunscreen and building new skin cells. The results found that the polyphenols applied to the skin protected it against ultraviolet radiation and enhanced skin cell growth.
Polyphenol Intake
In addition to applying polyphenols to the skin, increasing your intake of polyphenols also can have skin-protective benefits, according to a study published in the April 2011 edition of "The Journal of Nutrition." The study measured 60 female volunteers over the course of 12 weeks. The participants were given a beverage that contained green tea polyphenols or that did not contain polyphenols. The participants were measured for skin elasticity, roughness, scaling, density and other factors. After 12 weeks, those who consumed polyphenol-containing beverages experienced greater blood flow and oxygen to the skin. According to the study, women reported experiencing improvements in their overall skin quality.
Antioxidants
Antioxidants help to fight free radicals in your body. Free radicals are substances that float around in your body, robbing your cells of oxygen. This can cause them to break down faster, causing harm to your cells. This is why free radicals are associated with inflammation in your body. Examples of substances that produce free radicals include sun exposure, cigarette smoke or pollution. Polyphenols either applied or absorbed in your skin help to fight free radicals by combining with them to prevent them from harming your healthy cells. Without these antioxidant fighters, you may experience symptoms such as accelerated aging.
Preparations
Polyphenol-containing skincare products include skin cleansers and face masks. Because polyphenols can help improve moisture retention, they also are often incorporated into moisturizers. Green teas extracts also can be incorporated into sunscreens because they have sun-protective effects. You also can take in polyphenols via sources like green and white teas.
References
"Journal of Agricultural and Food Chemistry"; Protective Effects of Tea Polysaccharides and Polyphenols on Skin; Xinlin Wei, et al.; 2009
"The Journal of Nutrition"; Green Tea Polyphenols Provide Photoprotection, Increase Microcirculation and Modulate Skin Properties of Women; Ulrike Heinrich, et al.; April 2011
Writer Bio
Rachel Nall began writing in 2003. She is a former managing editor for custom health publications, including physician journals. She has written for The Associated Press and "Jezebel," "Charleston," "Chatter" and "Reach" magazines. Nall is currently pursuing her Bachelor of Science in Nursing at the University of Tennessee.
Photo Credits
Purestock/Purestock/Getty Images