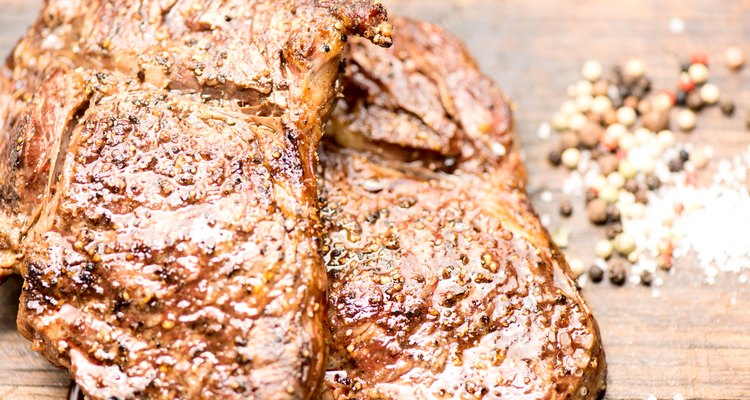 Nanisimova/iStock/Getty Images
Beef mock tender roast resembles a cone-shape and is the muscle near the chuck top blade, the shoulder of the cow. It is a tough piece of meat since the muscle is an active muscle and is full of connective tissue. Slow cooking with moisture is one of the better methods for cooking beef mock tender roast so the connective tissue can be broken down, which helps result in a more tender piece of meat. Braising is a method in which the meat simmers in liquid for a lengthy amount of time. The liquid can be seasoned to impart the beef with a multitude of flavors.
Bring the beef mock tender roast to room temperature by leaving it wrapped in plastic wrap on the counter for about 30 minutes.
Preheat a Dutch oven or large pot with olive oil over medium heat.
Preheat the oven to 325 degrees Fahrenheit, if you are using a Dutch oven.
Season the beef mock tender roast on all sides with salt and pepper to taste.
Sear the tender roast on each side for three to five minutes until it has browned. Remove the roast from the pan and set it aside on a warm plate.
Pour 2 cups of liquid, such as water, broth, beer or wine, into the Dutch oven or pot and scrape up the bits of browned meat.
Season the liquid with herbs, spices or cut up vegetables, such as celery, carrots or onions.
Bring the liquid to a boil, reduce the heat to a simmer and place the beef mock tender roast into the Dutch oven or pot. Cover tightly with a lid.
If you are using a Dutch oven, turn off the heat and place the Dutch oven into the kitchen oven and cook for about three hours.
If you are using a pot on top of the stove, simmer for two to three hours.
References
Writer Bio
Nicole Adams is an accomplished writer, publishing in print and online. She has submitted hundreds of articles for websites, including CBS Local and Education.com. Adams earned a Bachelor of Science in psychology with concentrated studies in health and nutrition, and animal behavior and nutrition. She loves to cook and volunteers in animal rescue.
Photo Credits
Nanisimova/iStock/Getty Images