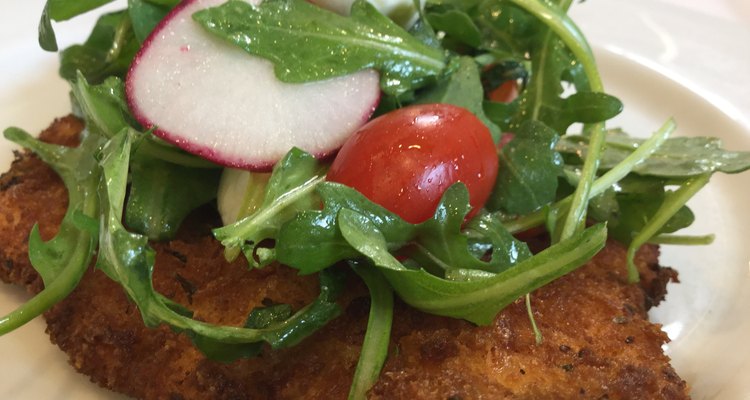 Jhodytropical/iStock/Getty Images
The term "Milanesa" is associated with Mexican and South American cuisine, but it actually comes from Italy. Milanesa refers to the culinary technique of pounding meat thin, breading it and frying it. Milanesas are typically made with beef, but they can be made from any meat or even zucchini or eggplant. In parts of Mexico and South America, milanesas are so popular that entire restaurants specialize in them; they are as ubiquitous as the hamburger is in the United States.
Place the steaks side by side and 4 inches apart on a piece of waxed paper.
Cover the steaks with a second sheet of waxed paper and pound them flat with your meat mallet. When you are finished, the steaks should be no more than 1/2 inch thick.
Cut the steaks into manageable serving sizes, as the pounding will have expanded their size.
Add the beaten eggs and garlic to a bowl and stir to integrate the garlic.
Combine the flour with the parsley, salt, pepper and chili powder or crushed red pepper flakes, if you are using them, in a second bowl.
Dredge the steaks in first the egg and then the flour mixture.
Heat the olive oil in a skillet over high heat.
Add the breaded pieces of steak one or two at a time to the hot oil and brown them for one to two minutes on each side or until they are golden brown and crispy.
Remove the milanesas from the pan with your spatula and place them onto a plate covered with paper towels. This will help blot any excess grease from the cutlets.
Serve the milanesas on the rolls, and add the condiments of your choice.
References
Writer Bio
Natalie Smith is a technical writing professor specializing in medical writing localization and food writing. Her work has been published in technical journals, on several prominent cooking and nutrition websites, as well as books and conference proceedings. Smith has won two international research awards for her scholarship in intercultural medical writing, and holds a PhD in technical communication and rhetoric.
Photo Credits
Jhodytropical/iStock/Getty Images