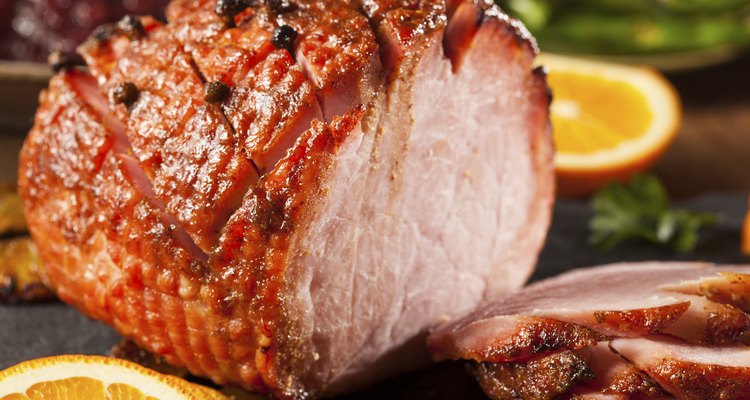 bhofack2/iStock/Getty Images
Although it takes several hours, cooking a ham is simple. The key to a good ham is making sure it doesn't dry out in the oven. One way of ensuring that the ham retains its moisture is by cooking it in a roaster pan, which allows room for juices to pool beneath the meat and create a moist-heat cooking environment.The high sides of a roaster pan also help prevent the ham juices and any additional glaze from running over and spilling onto the floor of your oven.
Preheat the oven to 350 degrees Fahrenheit. Line the inside of the roaster pan with aluminum foil.
Place the ham on the rack inside of the pan and bake for one hour. While the ham is cooking, mix all of the remaining ingredients in a saucepan over medium heat, stirring constantly until they form a thick glaze.
Pour half of the glaze over the ham after the first hour and cook for 30 minutes.
Flip the ham over, pour on the remaining glaze and bake for one hour. Remove the ham from the oven and let it rest for at least 30 minutes before serving.
Writer Bio
Andrea Thomas has been writing professionally since 2003. She is a graduate of Georgia Southern University in Statesboro, Ga., earning a Bachelor of Science in journalism. Writing for a variety of print and online publications, including "The Golden Isles Magazine," "The Times" and "The Brunswick News," Thomas has interviewed presidential candidates, health experts and top government officials.
Photo Credits
bhofack2/iStock/Getty Images