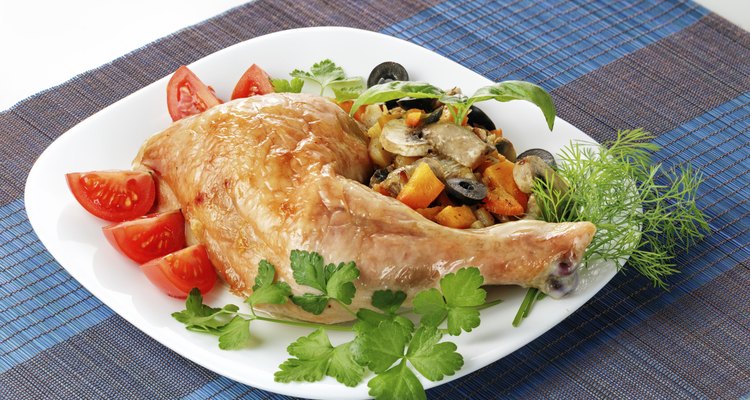 Mark_VB/iStock/Getty Images
Fried chicken creates that crispy texture that everyone loves. Although fried chicken is never healthy for you, this recipe minimizes the number of calories with a basic flour rub that avoids the butters and oils that are commonly used to coat chicken. This basic fried chicken leg recipe can be prepared in less than two hours, including preparation, and it's sure to be a crowd pleaser.
Season the chicken legs with salt and pepper on both sides.
Pour 2 cups of flour onto a large plate and roll the chicken legs into the flour until they are completely coated. Pat the legs to remove any excess flour.
Place the sections of chicken onto a cooling rack and allow them to dry for 30 minutes.
Heat up 3 cups of vegetable oil in an iron skillet until it reaches 350 degrees Fahrenheit.
Fry the chicken in the oil for 10 minutes and put it onto another cooling rack to cool off.
Pat with a paper towel to remove excess oil from the chicken.
References
"Cooking"; James Peterson; 2007
Writer Bio
Based in New York, Judith Tompkins has been writing sleep and nutrition articles since 2002. She worked for six years as a polysomnographer and now serves as a nutrition consultant. Tompkins received an associate's degree in polysomnographic technology from Cuyahoga College, as well as a master's degree in applied clinical nutrition from New York Chiropractic College.
Photo Credits
Mark_VB/iStock/Getty Images