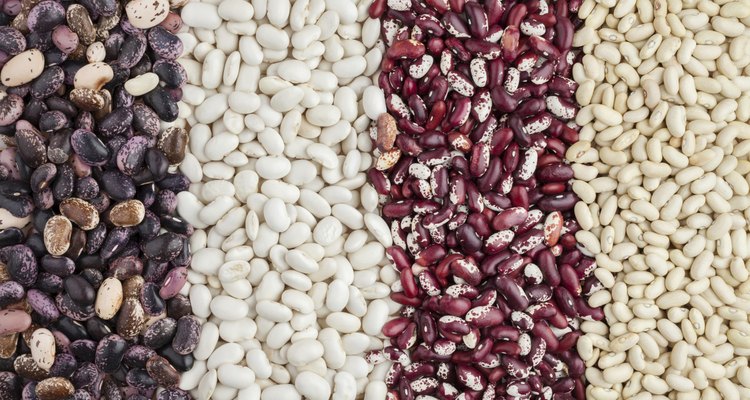 bergamont/iStock/Getty Images
Versatile and nutritious great northern beans can be used in any recipe that calls for cooked dried beans. You can substitute them for pinto beans, dried limas and even red chili beans to make a version of white chili. One of the best ways to use great northern white beans is in soup, and one of the easiest ways to make bean soup is in a slow cooker.
Wash and sort the dry beans, being careful to remove any pebbles or debris. Place the clean beans in a large bowl, and cover them with water. Soak the beans overnight at room temperature.
Cut the bacon crosswise into 1/2-inch wide pieces. Brown the bacon in a skillet, drain off the fat, and reserve the bacon pieces.
Put the olive oil in the skillet, and sauté the onion, carrots and celery over medium heat until they are cooked but not browned. Add garlic and herbs, and cook slightly for one to two minutes.
Drain the great northern beans in a colander.
Pour the cooked vegetable mixture into your slow cooker, and add the drained beans and the chicken stock. Set the cooker on low, and cook the soup for at least two hours, or until the beans are tender.
Remove and discard the bay leaf. Ladle the soup into bowls, and garnish it with the bacon pieces.
References
"The Forget-About-Meat Cookbook"; Karen Brooks; 1974
"Crock Pot Cookery"; West Bend; 1989
Resources
Writer Bio
Fern Fischer's print and online work has appeared in publications such as Midwest Gardening, Dolls, Workbasket, Quilts for Today and Cooking Fresh. With a broader focus on organic gardening, health, rural lifestyle, home and family articles, she specializes in topics involving antique and modern quilting, sewing and needlework techniques.
Photo Credits
bergamont/iStock/Getty Images