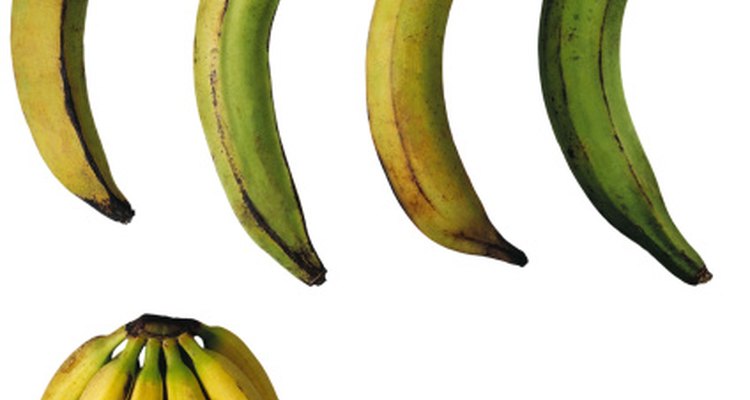 Brand X Pictures/Brand X Pictures/Getty Images
Ripe plantains are deliciously sweet and ready to eat as you would a banana. Plantains are almost always available at your local chain grocer, natural food, Hispanic and Asian markets. If there are only green plantains, keep them in a paper bag to ripen, taking one to two weeks. Ripe plantains are yellow with plenty of black discoloration on the peel. Cooking ripe plantains in the microwave is similar to cooking them on the stove; you must do it slowly and gently to avoid heating them to a pulp.
Slice the plantains in half lengthwise and crosswise with the skin on.
Peel the skin off and place the quartered plantains aside on a plate.
Pierce two slices of plantains with a fork to note how firm the plantains are, comparing the firmness later once you have cooked the plantains.
Pour 1 cup of thick coconut milk into a microwave-safe plastic or glass dish with a 2-inch rim.
Add a pinch of salt, 2 tbsp. sugar and ½ tsp. ground cinnamon.
Stir the ingredients together, dissolving the sugar and salt.
Arrange the plantains in the dish in a single layer.
Add more coconut milk to barely cover the plantains.
Cover the dish with a sheet of plastic wrap, using a knife to make a small hole at the center of the wrap for steam to escape.
Cook the plantains at 20-second intervals on high heat for a total of two minutes, pausing for about five seconds between each interval; this gently and slowly heats the plantains compared to cooking them for two minutes without a pause.
Carefully remove the dish after two minutes of cooking.
Place the dish on the counter and remove all but one side of the wrap, laying the wrap neatly along the counter.
Use a spatula to flip each slice of plantain to the other side, gently stirring the coconut milk around in the pan.
Cover the dish with the same wrap and return it to the microwave.
Cook the plantains again using 20-second intervals for two more minutes.
Remove the dish and pierce the plantains with a fork; the plantains are done when they are noticeably softer than before you cooked them.
References
"Mexican Everyday"; Rick Bayless; 2005
"Leblon Finatinas Para Guam, Guam Cookbook"; Y Inetnon Famalaoan; 1988
Tips
If you do not like cinnamon, you may omit the spice.
Once the plantains are fully ripe or nearly black throughout, place in the fridge.
Writer Bio
Paula Quinene is an Expert/Talent, Writer and Content Evaluator for Demand Media, with more than 1,500 articles published primarily in health, fitness and nutrition. She has been an avid weight trainer and runner since 1988. She has worked in the fitness industry since 1990. She graduated with a Bachelor's in exercise science from the University of Oregon and continues to train clients as an ACSM-Certified Health Fitness Specialist.
Photo Credits
Brand X Pictures/Brand X Pictures/Getty Images