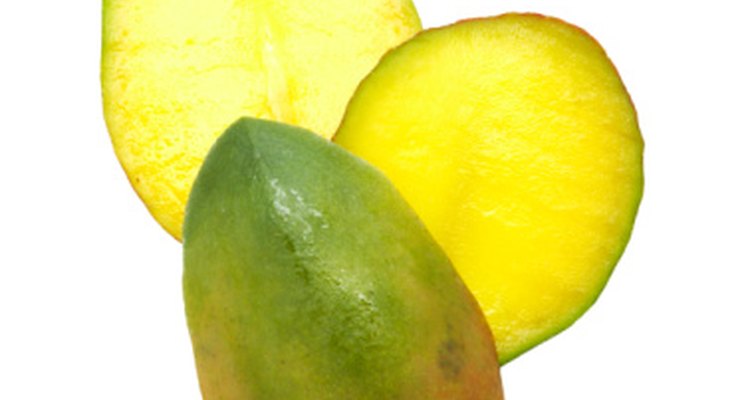 Thomas Northcut/Photodisc/Getty Images
Cooked mango is an excellent compliment to a host of meats, including all types of fish, chicken, turkey, pork and lamb. Serve grilled mango intact as a colorful accompaniment or mash it and use it to make flavorful chutney. This tropical fruit adds fiber, potassium and magnesium to your meal as well. Mango contains an enzyme similar to the one found in papaya that helps with digestion and heartburn. Grilling your mango gives it a richer flavor.
Mango for Chutney
Heat your grill to medium-high. Slice your mango, leaving the skin on.
Grill your mango slices for about 10 minutes, until the skin appears spotty and the fruit feels soft. Turn the mango every three minutes with long-handled tongs.
Place your mango slices in a bowl. Cover and let stand 10 minutes.
Peel the skin away from the fruit with your fingers. Separate the pit from the fruit and discard it.
Mash the cooked mango with your fingers if you want to make chutney with it. Combine it with one grilled onion, one chopped tomato, 1/2 tsp. salt, 1 tsp. sugar, one minced chile pepper, 1 tbsp. lime juice, grated zest from one lime, 1 tbsp. minced ginger, a handful of chopped cilantro leaves and 1 tsp. sweet-flavored vinegar.
Grilled Mango
Peel your raw mangoes. Cut the mangoes in half. Choose fruit that is ripe but firm.
Moisten the mangoes lightly with olive oil.
Set the mangoes on a medium-high grill placed two three inches from the heat source.
Turn the mangoes about every two minutes. Cook them until they brown and soften, but do not let them blacken. Combine 1/2 cup each toasted coconut and panko bread crumbs and sprinkle over the top of your cooked mango, if desired. Serve alongside a meat dish such as pork chops.
References
Tips
Mango chutney works especially well with grilled fish.
Writer Bio
Linda Tarr Kent is a reporter and editor with more than 20 years experience at Gannett Company Inc., The McClatchy Company, Sound Publishing Inc., Mach Publishing, MomFit The Movement and other companies. Her area of expertise is health and fitness. She is a Bosu fitness and stand-up paddle surfing instructor. Kent holds a bachelor's degree in journalism from Washington State University.
Photo Credits
Thomas Northcut/Photodisc/Getty Images