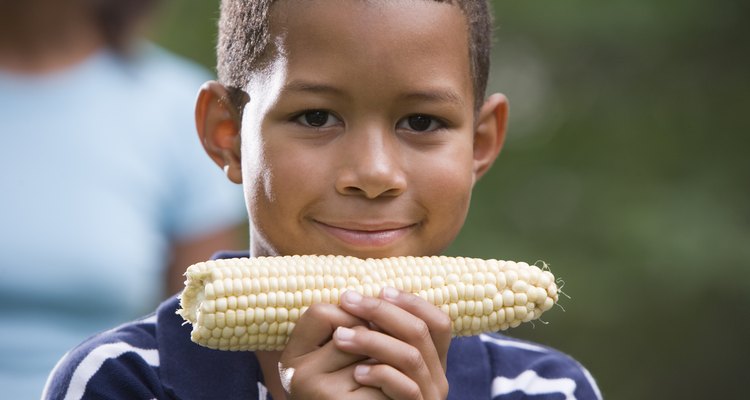 Comstock Images/Stockbyte/Getty Images
Steaming fresh corn on the cob brings out its natural sweetness without boiling away all of its nutrients or ruining the texture. Steamed corn on the cob is still slightly crisp when done correctly. Cooking it in a steamer basket is the easiest way to make sure that the corn isn't boiled, but it's not necessary. Steaming doesn't mean not touching the water at all. It just means that you are not cooking fresh corn immersed completely in boiling water.
Peel the corn and make sure you have removed as many of the silky inner strings as possible.
Cover the bottom of a large pot with water. The wider the pot, the better, so that you can steam the corn in a single layer. Make sure that there is no more than 1/4 to 1/2 inch of water in the pot because you do not want to immerse the corn completely.
Bring the water to a boil. Let it come all the way to a rolling boil, not just showing rising bubbles, but so that all of the water is moving.
Lift the corn into the pot with tongs, being careful not to splash yourself. Shake the pot gently to roll the corn around in the boiling water a little, and then cover the pot.
Let the corn steam for no more than three to four minutes, or the natural sugars inside will turn starchy, changing the taste of the corn.
Remove the corn with the tongs and set it in a colander to drain for a minute before serving.
References
Writer Bio
Brynne Chandler raised three children alone while travelling, remodeling old homes, taking classes at the Unioversity of California Northridge and enjoying a successful career writing TV Animation. Her passions include cooking, tinkering, decorating and muscle cars. Brynne has been writing fun and informative non-fiction articles for almost a decade. She is hard at work on her first cookbook, which combines healthy eating with science-based natural remedies.
Photo Credits
Comstock Images/Stockbyte/Getty Images