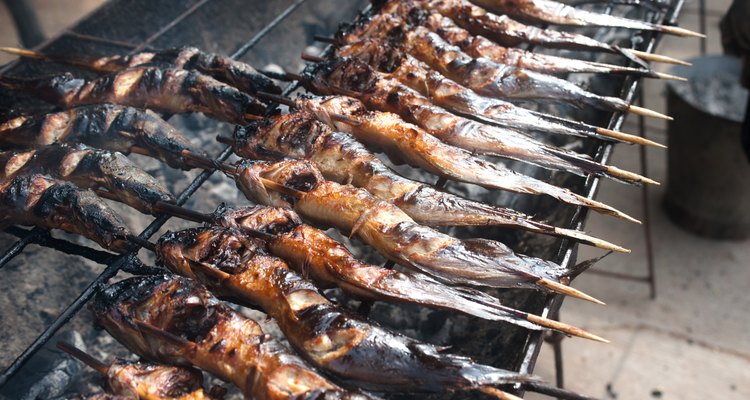 topten22photo/iStock/Getty Images
Catfish is one of the staple foods of the American south. It is found in a wide range of lakes, rivers and streams in the region, and also in other parts of the United States. Catfish has a unique flavor that can turn off some consumers, but it's strong taste makes it a perfect fit with other southern dishes that are loaded with personality. Like any other fish, catfish can be cooked as fillets or whole, and throwing it on the grill is an easy way to prepare the entree.
Season the fish as desired. While catfish can be cooked on its own without any preparation, some may prefer to add a seasoning to enhance its flavor. Salt, pepper, lemon juice, cayenne pepper and/or cumin are equally good partnered with catfish.
Preheat the grill the medium heat. Let the fish sit out and warm to room temperature.
Grill on one side for 15 minutes, then flip the fish over and grill for another 5 to 15 minutes, depending on the thickness of the fish. Once you flip the fish you can remove the foil.
Remove the fish from the grill once it has cooked through and reaches an internal temperature of150 degrees Fahrenheit, or when the fish is no longer translucent and flakes easily with a fork. Serve immediately.
References
Tips
The flavor of catfish can be influenced by the smoke of a grill. You can influence the flavor by using hickory or mesquite wood chips in the grill, and by closing the hood of your grill to enhance the smoke flavor of the meat.
Writer Bio
Jonathan Croswell has spent more than five years writing and editing for a number of newspapers and online publications, including the "Omaha World-Herald" and "New York Newsday." Croswell received a Bachelor of Arts degree in English from the University of Nebraska and is currently pursuing a Master's of Health and Exercise Science at Portland State University.
Photo Credits
topten22photo/iStock/Getty Images