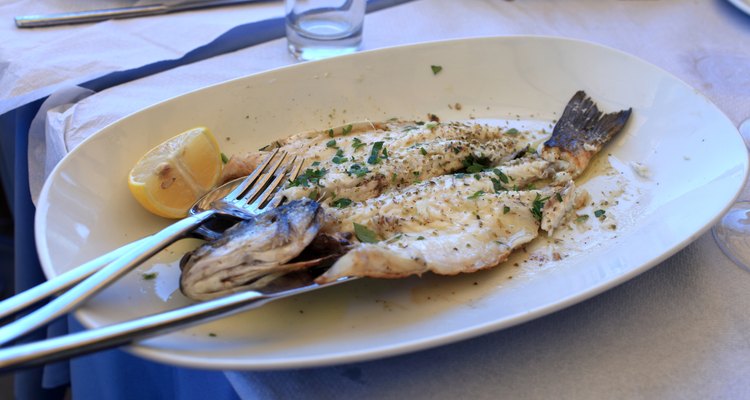 Radist/iStock/Getty Images
Mahi mahi, sometimes known as dolphin or Dorado, is a firm fish sold in fillets or steaks. Mildly flavored on its own, it quickly soaks up the flavors from marinades, salsas and sauces. Mahi mahi is a low-calorie, low-fat, high-protein fish and a healthy choice for grilling indoors or outdoors.
Seasoning Mahi Mahi
Season mahi mahi simply with salt, pepper and garlic for serving with a pan sauce or salsa, or cover mahi mahi with marinade and refrigerate for 20 minutes.
Drain the marinade and season the fish with salt and pepper.
Spray the grill rack with oil to prevent sticking.
Grilling Mahi Mahi Over Charcoal or Gas
Heat a gas or charcoal grill to medium-high heat.
Grill mahi mahi for 5 to 6 minutes per side, basting with extra marinade when you flip it. Use a spatula to support the fish fillet for turning.
Watch the mahi mahi for signs of doneness. Mahi mahi is done when it turns opaque and flakes easily in the center with a fork.
Grilling Mahi Mahi Indoors
Preheat an electric grill to high or heat a grill pan on the stove-top over medium-high heat. The grill is hot enough when a drop of water sizzles and dances across the surface.
Grill mahi mahi for 5 to 10 minutes per side on an electric grill. Turn when the edges turn opaque and appear flaky. Support the fish with a spatula while turning.
Grill until the mahi mahi flakes easily when poked in the center with a fork.
References
Marinades, Rubs, Brines, Cures & Glazes; Jim Tarantino
Fish; Mark Bittman
Writer Bio
Diane Watkins has been writing since 1984, with experience in newspaper, newsletter and Web content. She writes two electronic newsletters and has a Bachelor of Science degree in chemistry from Clemson University. She has taken graduate courses in biochemistry and education.
Photo Credits
Radist/iStock/Getty Images