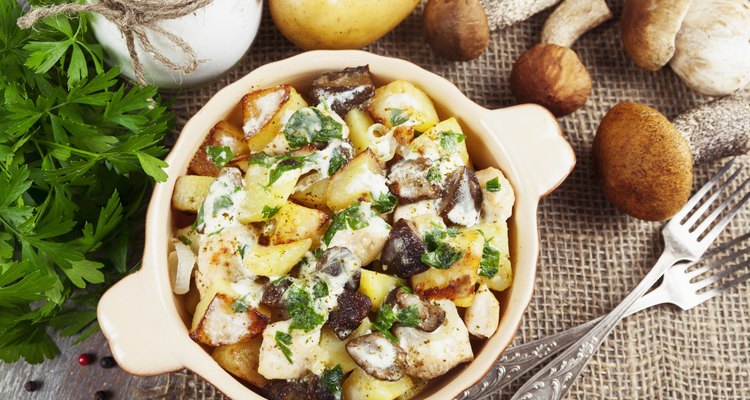 minadezhda/iStock/Getty Images
Fresh mushrooms and onions are low-calorie ingredients that are packed with taste. One cup of sliced mushrooms has about 20 calories, while 1 cup of sliced onions has about 45 calories. Although cultivated button mushrooms are a delicious addition to any dish, wild mushrooms have considerably more taste, according to the "Joy of Cooking." Choose mushrooms that are heavy for their size with firm caps. Avoid damp or shriveled mushrooms with dark and soft spots. Use mushrooms and onions as a side dish or make a delicious sauce, such as a ragout, to go with rice or pasta.
Sauteed Portobello Mushrooms and Onions
Heat 1 tbsp. butter or olive oil in a large frying pan. You can also use a combination of both.
Add a chopped and sliced medium white onion and saute for about five minutes or until the onion begins to turn golden.
Wash and slice 1/2 lb. of fresh portobello mushrooms and add to the frying pan. Cook for three to five minutes, tossing constantly. Do not overfill the frying pan. Add a handful of mushrooms every minute, if you do not have a large pan.
Add two chopped garlic cloves, 1/3 cup of chopped fresh basil and 1/3 cup of fresh chopped parsley. Cook for two minutes. Add salt and black pepper to taste.
Serve on top of a grilled chicken breast, steak or fish, or add onto an omelet, salad, rice or a pasta dish.
Mushroom Ragout
Heat 1 tbsp. olive oil in a large skillet over medium heat. Add a diced medium-sized red or white onion and cook about 10 minutes or until golden. Remove and set aside.
Heat in the same pan 1 tbsp. olive oil. Add 1 lb. washed and sliced assorted mushrooms. Cook until the mushrooms begin to release their liquid.
Add the onions back to the pan together with two minced garlic cloves, 1 tbsp. chopped fresh rosemary, salt and black pepper to taste. Cook for another three to four minutes and then stir in 1 tbsp. tomato paste. Increase the heat to high and cook for one to two minutes while stirring constantly.
Add 1 ½ cups vegetable stock, chicken stock or water. Reduce the heat and simmer for 10 minutes.
Add 2 tbsp. butter and 1 ½ tsp. balsamic vinegar and cook for a minute. Garnish with Parmesan cheese and fresh parsley and serve over rice, polenta or pasta.
References
"Joy of Cooking"; Irma S. Rombauer, et al.; 1997
Writer Bio
Maria Parepalo began writing professionally in 2006 and has published in medical journals as well as online. She graduated with a bachelor's degree in laboratory sciences from Helsinki Polytechnic in 2002 and is currently working on her doctoral degree in cell and molecular biology.
Photo Credits
minadezhda/iStock/Getty Images