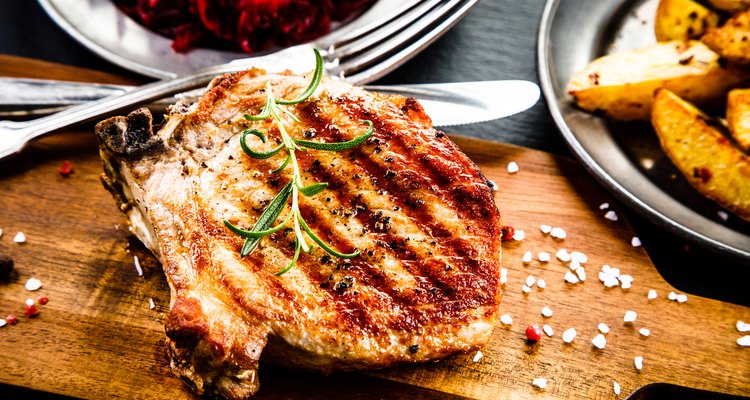 gbh007/iStock/GettyImages
A tasty complement to juicy pork chops or pulled pork is a sweet, tangy or slightly spicy barbecue sauce. Although pork with the fat trimmed is a lean meat, barbecue sauce can add a lot of calories in the form of sugar. Limit yourself to just a spoonful of sauce.
Picnic Classic
Pulled pork with barbeque sauce, a summer special, has 209 calories per half- cup serving. With around 5.5 grams of fat and more than 16 grams of protein, pulled pork isn't a bad option. It is, however, unusually high in carbohydrates, with 23.3 grams of total carbohydrates and 18.9 grams of sugar.
Ribs or Chops and Sauce
A 3-ounce pork chop, either baked or broiled, has 164 calories. You can add a 29-calorie tablespoon of barbecue sauce for a tasty entree that's less than 200 calories. Although juicy ribs are a treat, they have considerably more calories than pork chops. A 3-ounce serving of country-style ribs has 232 calories, plus additional calories from sauce.
Read More: How to Cook Pork in a Crock-Pot
References
Writer Bio
Carolyn Robbins began writing in 2006. Her work appears on various websites and covers various topics including neuroscience, physiology, nutrition and fitness. Robbins graduated with a bachelor of science degree in biology and theology from Saint Vincent College.