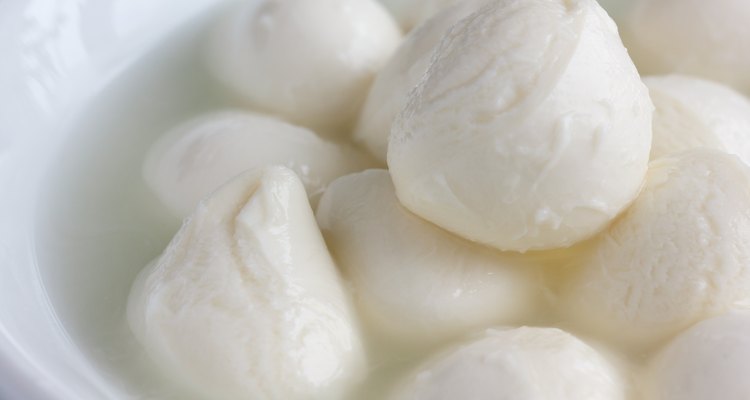 etienne voss/iStock/Getty Images
Bocconcini cheese is fresh mozzarella that comes in small ball servings and characteristically sits in water or whey liquid. Bocconcini is a wet cheese known for its smooth, soft texture and is popular as an appetizer with raw vegetables or antipasto. Bocconcini means "small mouthfuls" in Italian.
Calories
One ball of Bocconcini cheese weighs approximately 1 oz. The actual weight may vary based on the size of the cheese ball. A 1-oz. piece has 60 calories.
Fat
A 1-oz. ball of Bocconcini cheese has 6 g of total fat and 2 g of saturated fat. This cheese has no trans fat.
Protein and Sodium
Bocconcini cheese has 5 g protein, 20 mg sodium and 10 mg cholesterol per 1-oz. ball. There are no measurable levels of dietary fiber or carbohydrates.
References
Writer Bio
Writing since 1999, Darla Ferrara is an award-winning author who specializes in health, diet, fitness and computer technology. She has been published in "Mezzo Magazine" and Diet Spotlight, as well as various online magazines. Ferrara studied biology and emergency medical technology at the University of Nebraska and Southeast Community College.
Photo Credits
etienne voss/iStock/Getty Images