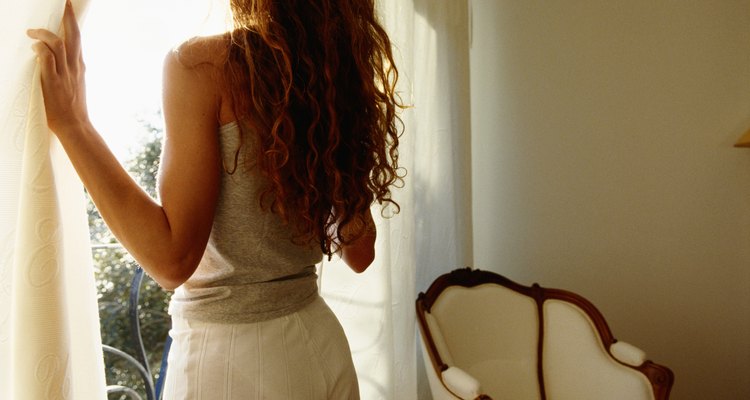 David De Lossy/Digital Vision/Getty Images
Anyone who has curly, kinky or frizzy hair knows how hard it is to tame. The least bit of moisture in the air and your hair becomes unmanageable. Two products seem to offer hope -- coconut oil and Moroccan, or Argan, oil. For decades, Asian, Indian and South Pacific women have used coconut oil to keep their hair clean and manageable, while women of northern Africa have become reliant on Argan oil to keep their hair silky, conditioned and healthy.
Moroccan Liquid Gold
Moroccan oil, sometimes referred to as "liquid gold," is extracted from the fruit of Argan trees found predominately in Morocco. Since cultivation is labor-intensive, local women work in cooperatives, taking days to produce a liter of the oil. African countries are active in a reforestation project to ensure that the trees producing this "liquid gold" will be around for generations to come.
Coconut Oil Production
Coconuts grow in warm, tropical climates such as those found in the Philippines, India and Vietnam. The 18-member Asian and Pacific Coconut Community, or APCC, produces about 85 percent of the coconut sold commercially. Virgin coconut oil is derived from the mature kernels of coconuts through either mechanical or natural means, with or without the use of heat.
Argan Oil Benefits
As an oil treatment, Argan oil provides instant shine, smoothness and frizz control. It helps seal the hair cuticle to protect against damage caused by chemicals as well as excessive heat from styling and environmental abuses. Read the product label to see where Argania Spinosa kernel oil -- or Argan oil -- is listed as an ingredient. The earlier you find it in the list, the greater the quantity found in the product.
Coconut Oil Benefits
A study by researchers A. S. Rele and R. B. Mohile, published in the "Journal of Cosmetic Science" in 2003, showed that coconut oil reduced protein loss for both undamaged and damaged hair when used as a pre-wash and post-wash grooming product. The researchers suggest that since coconut oil is a triglyceride of a principal fatty acid -- lauric acid -- it has a high affinity for hair proteins. The study said "because of its low molecular weight and straight linear chain, [coconut oil] is able to penetrate inside the hair shaft."
Expert Insight
Both products leave a sheen to hair; however, people with frizzy and unruly hair may have better results when using products containing Argan oil. Stylist and makeup artist Katie Chacon of Fusion Salon and Spa in Folsom, California, prefers Argan oil-based products for her clients. "The molecules in Moroccan oil are small enough to penetrate the cortex of the hair. So while the oil gives hair the appearance of shine, it is also repairing, rejuvenating and moisturizing from inside the hair shaft." Chacon said Moroccan oil is the perfect complement to human hair. "It's packed with antioxidants and vitamins E and F, [and] hair and skin are designed to absorb those elements," she says.
References
Katie Chacon; stylist and Makeup artist; Fusion Salon and Spa, Folsom, California
Writer Bio
California-based Claire Yezbak Fadden has been writing parenting and health-related articles since 1994. Her work has appeared in nearly 100 magazines and newspapers including "Women's World" and various parenting publications in the United States, Canada and Australia. Fadden earned her Bachelor degree in journalism from San Diego State University.
Photo Credits
David De Lossy/Digital Vision/Getty Images